---
vatan007 wrote:

Another thing is: does the heatsink block the first x16 pcie slot? That is something to take into consideration when thinking of buying this heatsink. Any thoughts on this?

It shouldnt block the first PCIe slot, the HR02 macho is just like 2 or 3mm from the PCIe slot, now the HR22 is wider by 10mm so it should, but its asymmetrical design makes it have the same length to the left side of the CPU as the HR02, so is kinda like HR02 with more metal toward the upper side of the case.






Quote:

It seems so big, and as I have seen it mounted on a M-ITX board, it seemed to block the PCIe board.

On a mini ITX mobo will be dependent on the position of the CPU socket and the mounting orientation, this varies a lot, if its right next to the PCIe slot it will block it mounted toward the IO, but it shouldn't if you mount it 90 degree rotated as its flush with the CPU. Asrock haswell mini itx have the CPU socket opposite to the PCIe slot, this shouldn't block it with the normal orientation, Asus haswell mini itx come with the CPU more centered and shouldn't have an issue mounting it either, here is a pic of it mounted asus mini itx mobo,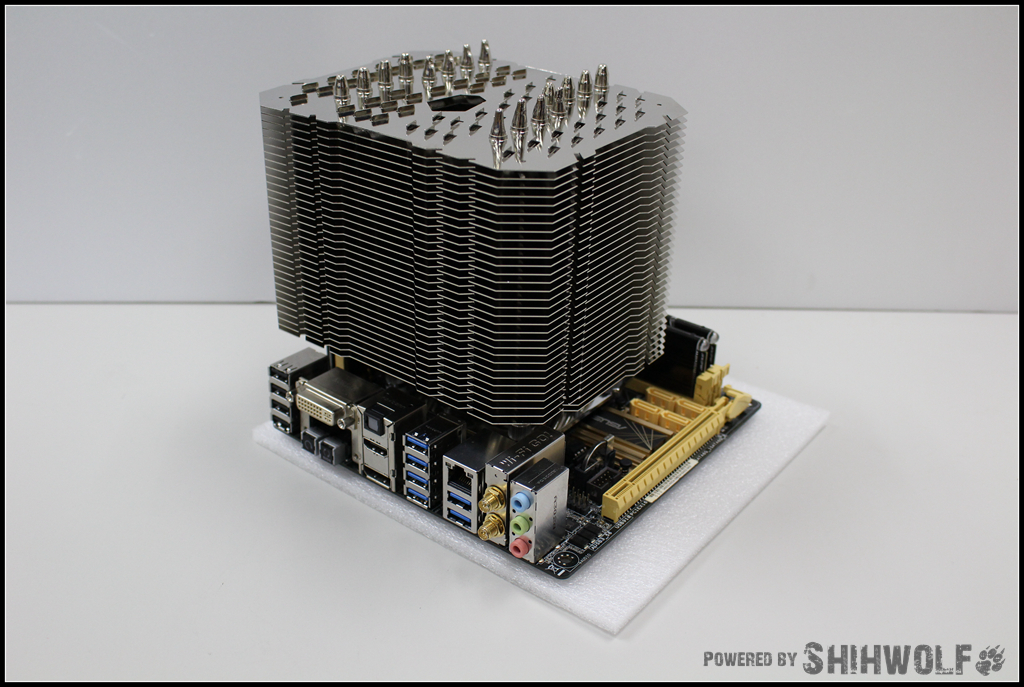 I'm going to get mine tomorrow, i'll installed it on the weekend, ill do a prime95 on the HR02 with the TY150 and disassemble it, install the HR22 with the same TY150 and run prime95 again, ill post my results to see if there is any gain.... kinda thinking there wont =(

In all honesty im still angry and disappointed, this is what thermalright is marketing as their new flagship, 10 years of experience bigger area and so on... to gain so little over the HR02 Macho that cost half, weights less and comes with a fan. I know this heatsink will get bashed by overclocking sites out of its price tag, as it was with the original HR02 (none macho version), but i really don't care about the huge price tag, but it needed to perform better, much better, it should have taking the crown on temps at least to justify the cost, its a fanless oriented cooler that dont beat the NoFAN95, and with a fan barely any gains on the HR02 macho, i don't see whats its strength.