---
Here is my latest build in my trusty fiveish year old Sonata I case. Its almost silent all the time except when I load it up with Prime95 + TAT and WinRAR to stress test it, where it is still very quiet and totally stable. This is the result of a few months research (mainly here) and trial and error.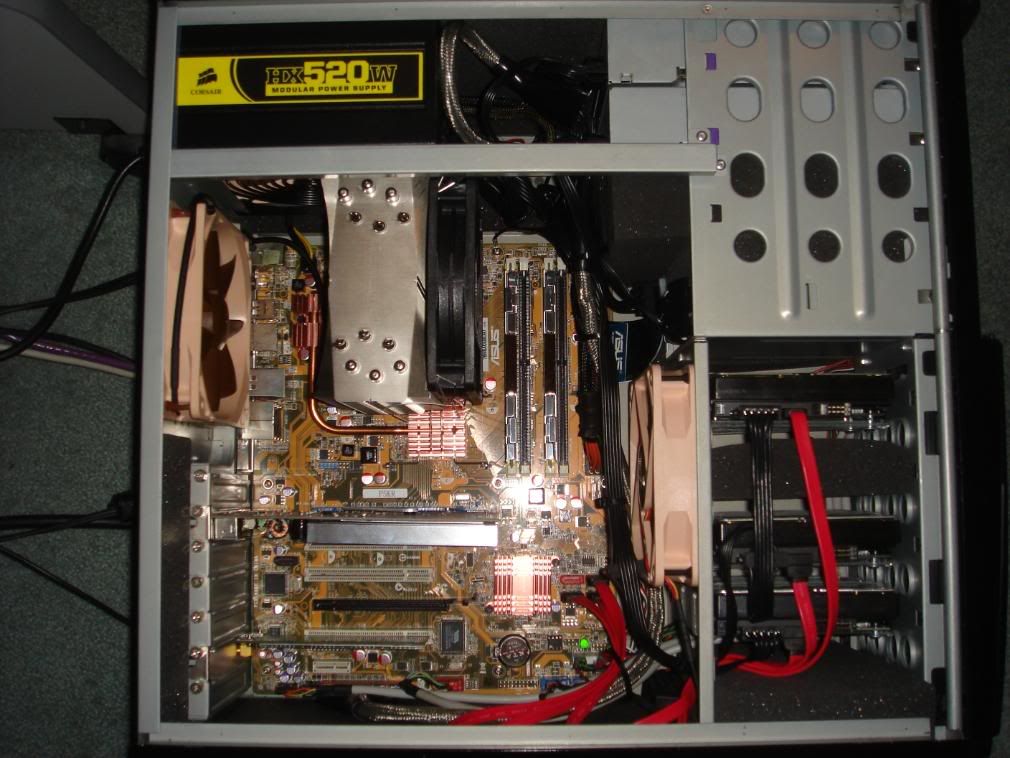 Im running XP and use it for downloading, encoding, web and as a media server for Xbox Media Center.

I wanted fluid dynamic bearings on all fans so that limited my selection, but Im happy with them all. There is a slight tick from the Noctua NF-S12-800 at any RPM but that is inaudible from any distance, and the Arctic Cooling PWM CPU fan isn't as smooth as the Noctuas but with the sound deadning it cant be heard over the exhaust fan and PSU with the case closed.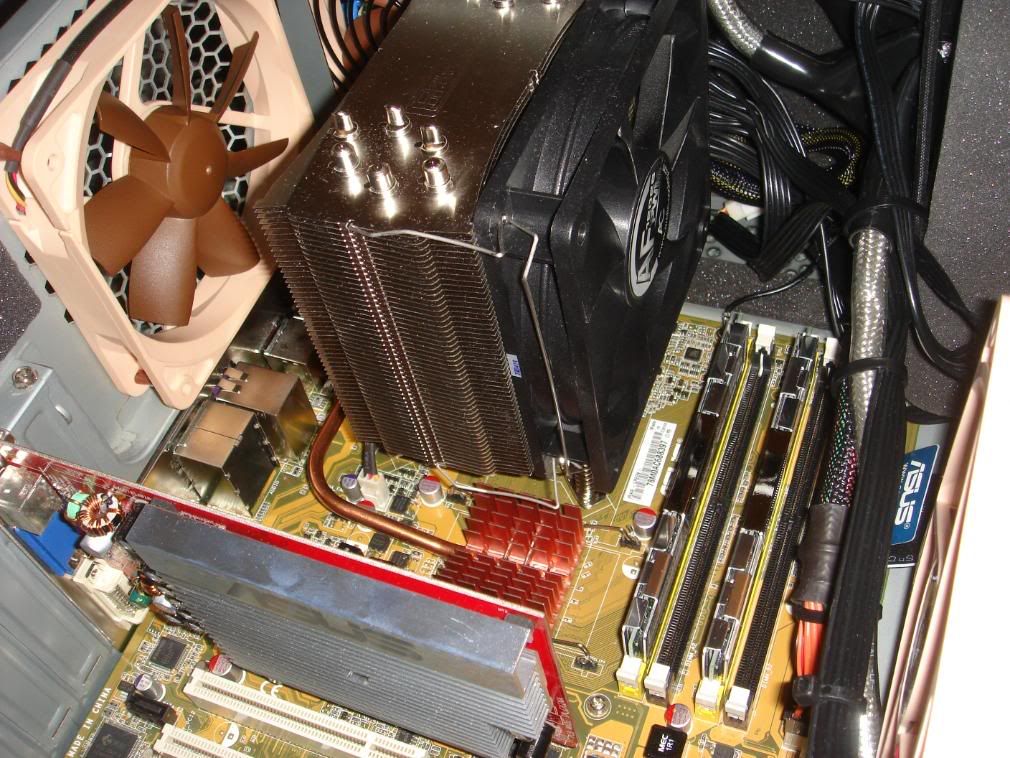 Temps are a bit high but are safe, adding the intake fan in the stock location helped with video and drive temps without adding noise. The intake is a Noctua NF-P12 which will run at about 1300RPM @ 12V, it has a high starting voltage and I couldnt get it to start at low RPM with a ULNA so used a Fan Mate at minimum which starts and runs it at 580RPM.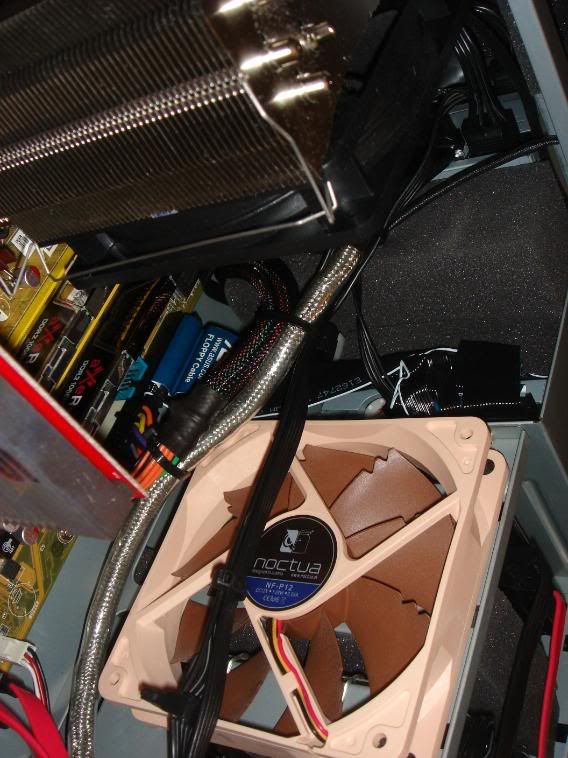 The Q6600 G0 is undervolted (dropped CPU temp 2 degrees) and the bus is overclocked from 266 to 333MHz to up the internal speed from 2.4GHz to 3.0GHz, this helps a lot with encoding frame rates.

The PWM CPU fan is controlled via the Silent Q-Fan profile on the ASUS P5KR motherboard and under extremely high (non real world) load ramps up from 480 to ~800 RPM.

The exhaust fan is controlled by Q-Fan as well and is set to a MB target temp of 39 degrees which means it begins to ramp up from 700 to 830 RPM and become slightly audible when MB temp exceeds 44 degrees which only occurs during stress testing. At idle/web the MB is at about 39 degrees.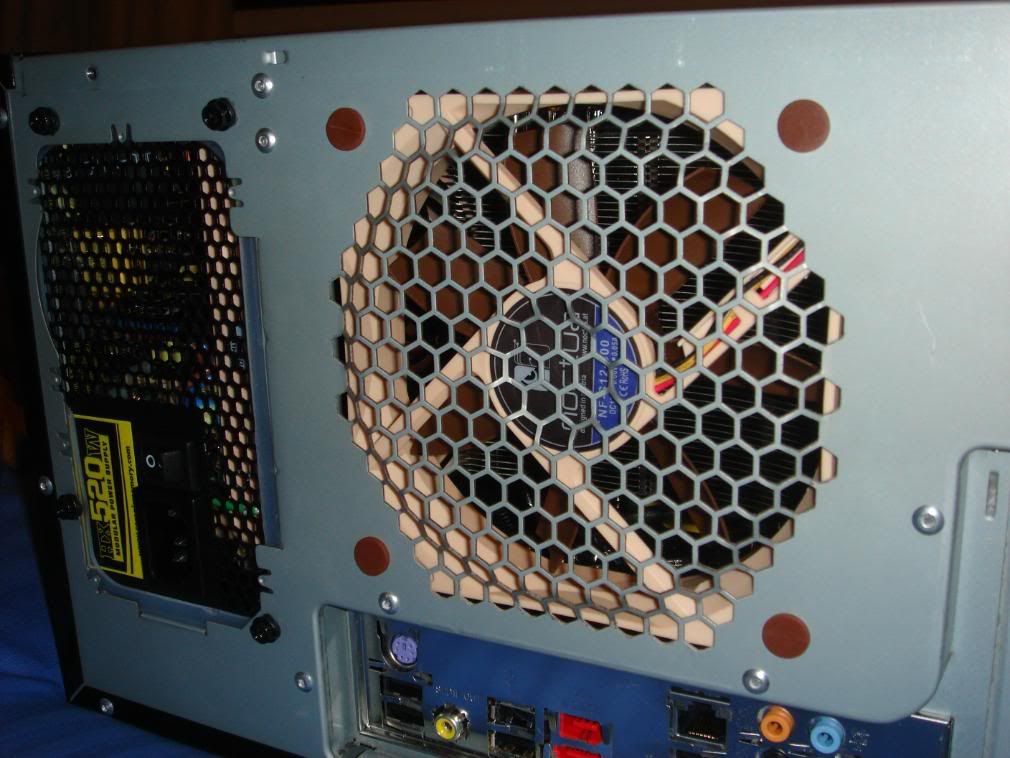 I initially thought the ADDA ball bearing fan in the Corsair HX520 was noisy but most of that noise is whine from the circuitry which cant be heard without an ear to the back of the case anyway. I have replaced the ADDA with a Noctua NF-S12-1200 and its a little quieter than it was with the ADDA, thermally it should be safe as the fan never ramps up as I am not getting anywhere near the 520W max of the PSU. Also the Jonny Guru review confirms that the fan will ramp up at high temps, I estimate it is running at about 500 RPM my motherboard doesnt see a RPM signal so it must be very slow anyway. I modded the PSU as seen in a thread here so the fan is plugged in to an external socket on a lead to allow easier fan changes in future if desired and to allow me to turn off the PSU fan easily if Im looking for noisy components.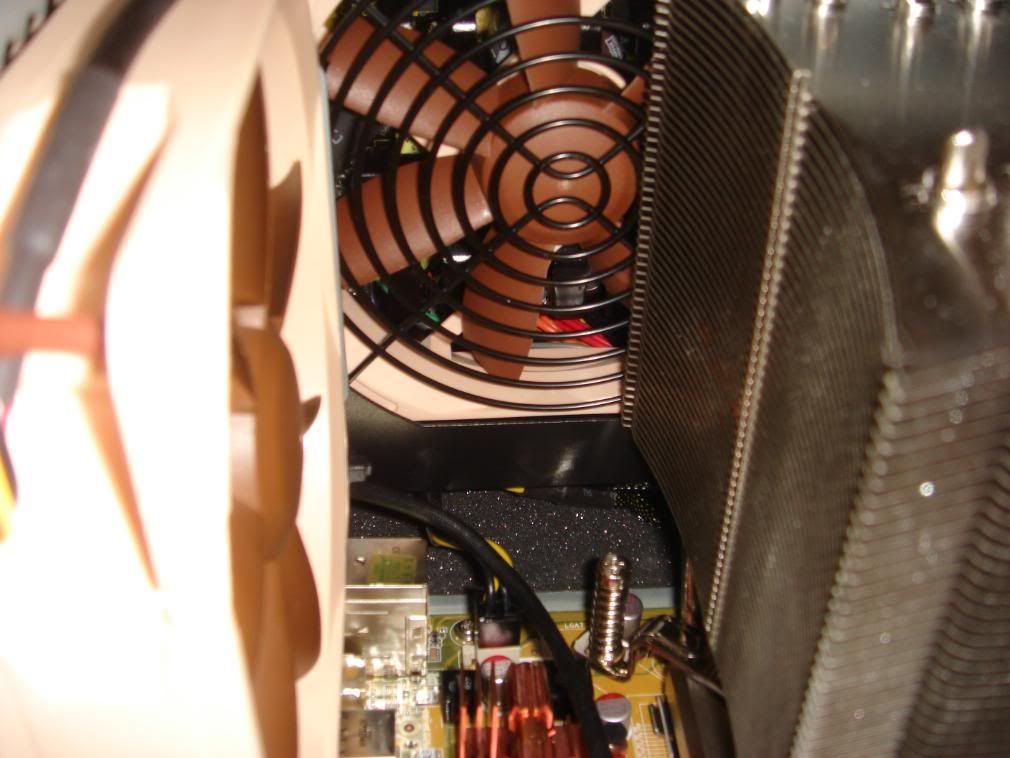 The hard drives are suspended with Stretch Magic and the stock Antec mounting screws, the case can be moved without them going anywhere and the drives can be removed and returned to the case without needing to redo the suspension. AAM is set to full on all drives, there is some very slight seek noise from the Caviar OS drive that is audible when there is no background noise. I am considering ordering the new WD single platter 320GB but am worried about the random nature of what you actually get with this model.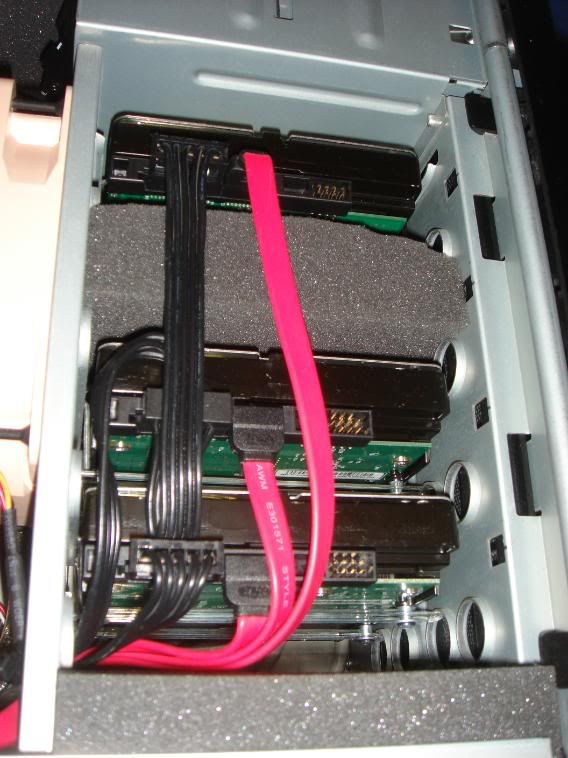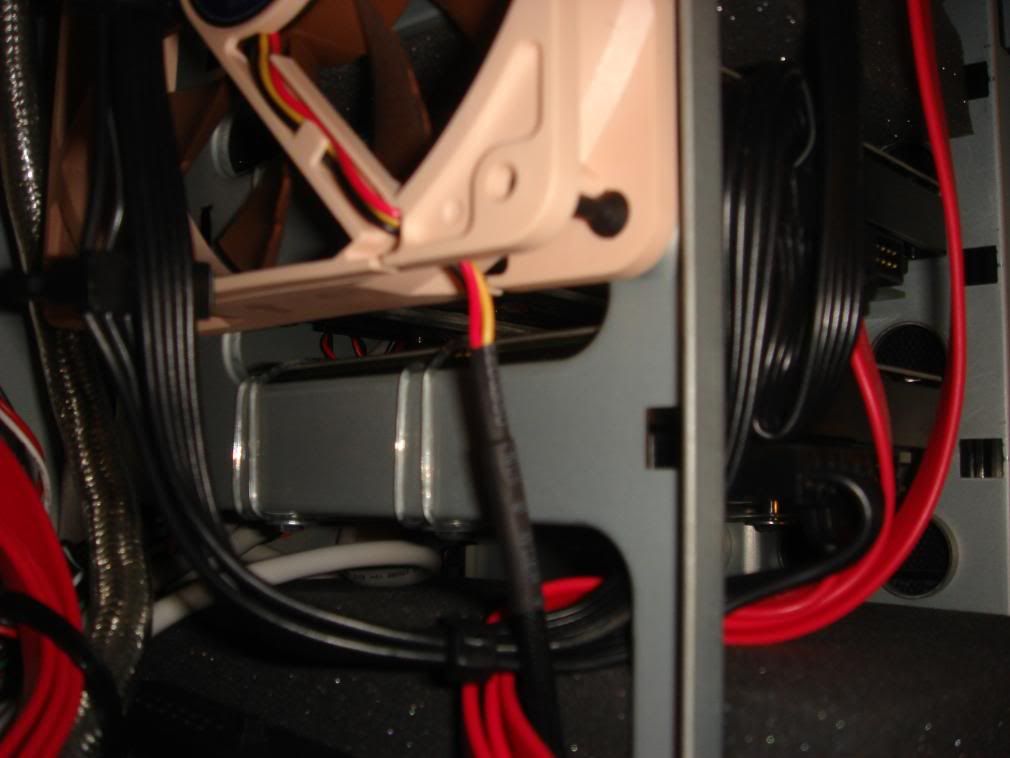 Any ideas on getting it to run any cooler without getting a new case? The CPU is already undervolted to 1.38V in the bios which gives 1.34V in CPU-Z at extreme load @ 61 degrees. Core 0 hits about 73 degrees. MB hits about 46 degrees and the Caviar about 38 degrees. The Green Powers are cooler but I cant get a temp as they in Intel RAID. Prime + TAT stable for 8 hours +.

At idle there is a 8 degree temp spread across the four cores 38-46 degrees, too much?

Any comments or questions welcome, I dont really think I can get it any quieter without making major changes but from my chair with no audible background noise it is just barely audible and the tone is very inoffensive.