---
Correction to the...



Quote:

Newegg's new drive came in, wrapped once in bubble wrap. This one works ok, <24 hours though!



... statement I made. I've noticed this replacement WD6400AAKS sounds louder then my other one. I'm not really happy about it, but, I think I'll just stick with it.


All the S.M.A.R.T. readings are good and the performance is ok, no bad blocks, etc, so it seems solid!

That, and for some reason, after I formatted the drive... the Serial ATA AHCI Bios (Intel iSrc 1.07 08042006) will not recognize the drive! I had to turn AHCI off and now things are ok. The Gigabyte GSATAII was disabled too, but I have more on the Intel SATA problems below..


-----

WD6400AAKS FTW! -- at least for now!

Anyway, here are some pictures of the benchmarks I did with my WD6400AAKS drives. I am pretty impressed!

Drive 0 (Quieter one):

Drive 1 (Louder one):



-----

Special Project

As I said before, I had a special addition for my PC. I wanted to add something in my 3.5" bay, and I finally did! I wanted to create a hot plug or swap hard drive, but the product I found also allows for USB and SATA connections!

The WD 320GB My Passport Essential - WDME3200TN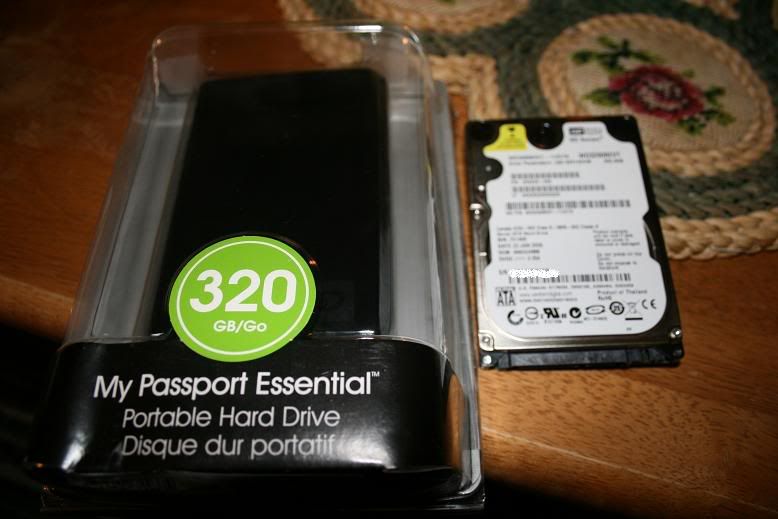 This actually isn't what I wanted! I ordered the Passport on sale at Staples using a coupon and then disassembled the Passport and took the hard drive out of it. I got a free notebook hdd SATA enclosure out of doing this! See the picture? The hard drive on the right came out of it!


Inside of my WD3200ME-01 (and the 00), you will find a Western Digital Scorpio WD3200BEVT 320GB SATA-2 HDD! At the time of writing, I was able to acquire the Passport cheaper then the hard drive itself. More for less, I love it!

The disassembly of the WD3200TN was rough. I really didn't find an exact article or pictures of this enclosure.... so hopefully mine can help someone else figure it out!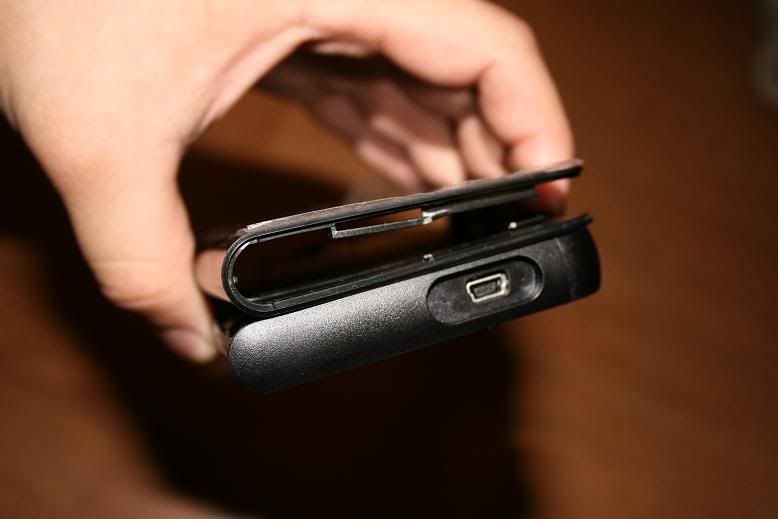 It is kind of a U-shaped clam shell that is over the enclosure. I found it easiest to start at the USB connector end, I picked a corner and separated it with my finger nail. Then I used an eye glass flat head screwdriver and slowly applied pressure to separate one side of the clam shell.

Unfortunately, I man handled it a little too much and broke some of the plastic tabs that hold the enclosure snugly. The good part is, it goes back together securely enough without them.

Once you get the clam shell off, you're left with all this wonderful stuff! I seperated it all so you can see the parts. No screws, no glue, no tape! EASY! I just slid the hard drive out and the SATA to USB connector came out with the drive from the metal container.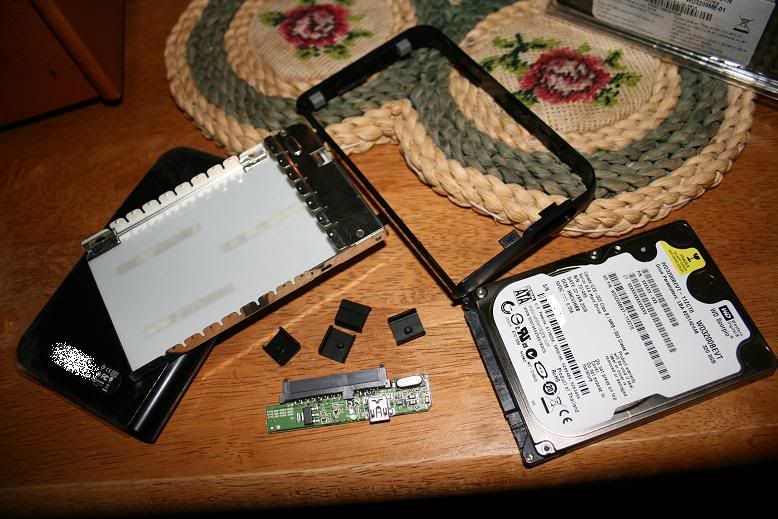 Now you have a WD3200BEVT and a free 2.5" SATA to USB enclosure!

------

Special Project: Part 2

I was on Newegg and I accidentally found this...
Crucial CTSK01 2.5" USB 2.0 External 2.5" Drive Storage Kit - Retail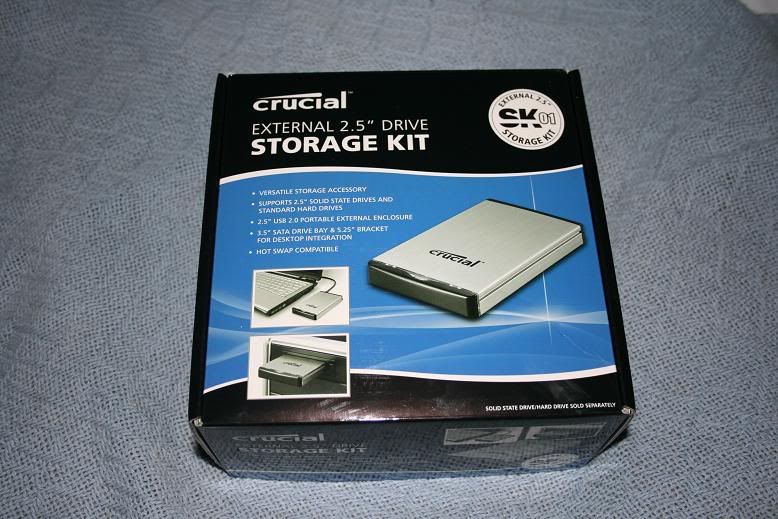 It is a...
- Standalone 2.5" HD/SDD SATA to USB enclosure
- 2.5" to 3.5" HD/SDD SATA Drive Bay
- 2.5" to 3.5" to 5.25" HD/SDD SATA Drive Bay (use included adaptor)

It is really just a SATA notebook hard drive enclosure that fits inside of a 3.5" floppy bay, with a USB converter, so you can use it without having the bay. It plugs directly into a SATA interface on the drive way, supports hot plugging, etc. It gets bay power from a floppy drive 4-pin connector, or you can use a standard 4-pin molex connector with the included converter.

So, it is pretty straight forward and easy to install. I am going to post a few pictures and comments.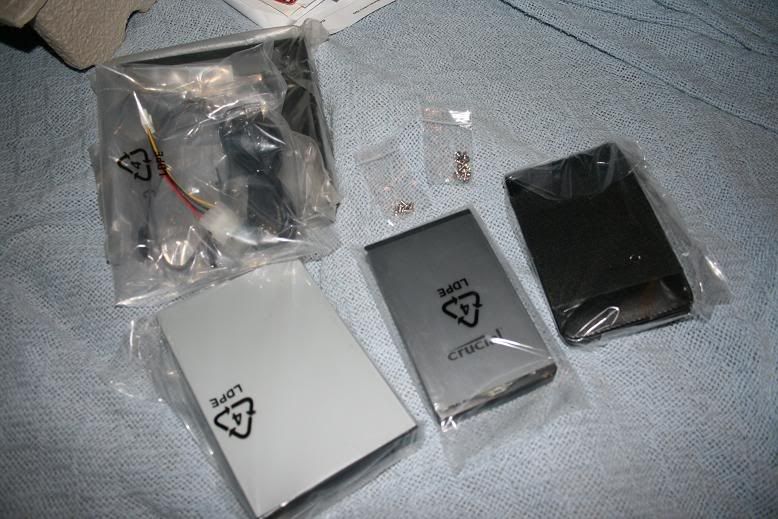 Out of the box...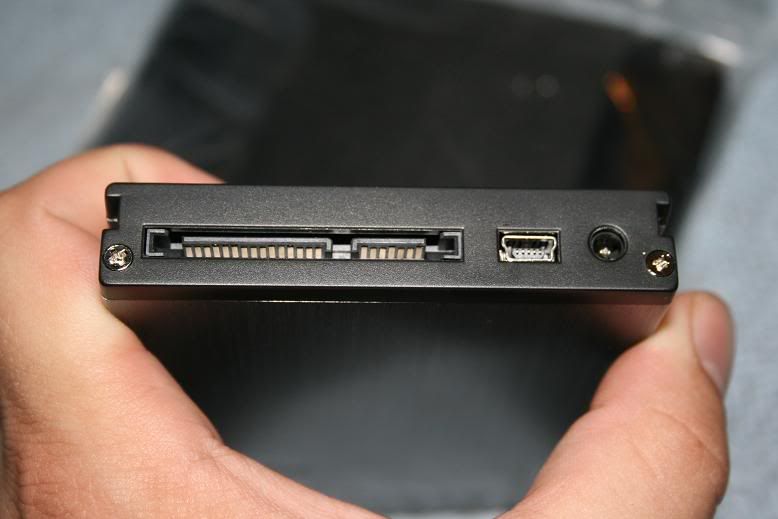 This is the rear of the enclosure, I'd imagine it can even plug directly into a SATA power plug and cable without needing the bay as well!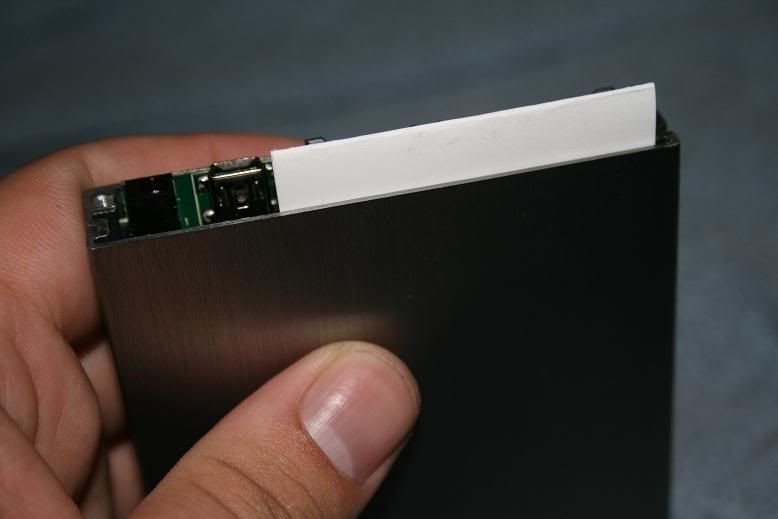 My ONLY complaint so far, is that the drive seemed a little loose. Any forward or backward motion and I heard the drive moving inside. My answer was to fold a business card in half and put it against the hard drive. Be careful not to block any holes of course.




Without the drive, mounted in my P182. (Ignore the "scratch" like looking area, it was oil from my hands... my flash amplified it!)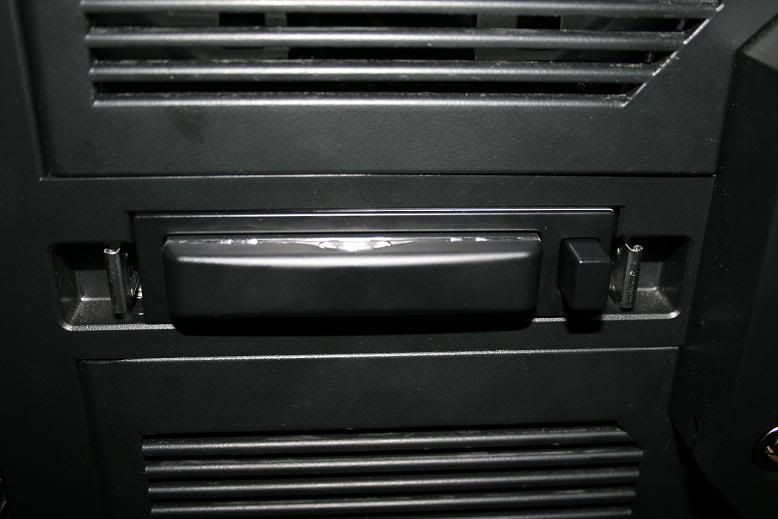 With the drive. It does not obstruct anything like the front door. Even after I eject it... there is still plenty of room!




I'm not sure if these numbers are good or not... but these are the benchmarks I got using the WD3200BEVT in the Crucial SK01 SATA enclosure connected to the Gigabyte GSATAII controller.

Bottom line on the Special Project:
I think the addition was pretty neat, but of course, it was not necessary. I have more storage then I know what to do with! This device is VERY portable compared to my full-size USB hard drives. It is also very quiet. It is similar to the WD6400AAKS, that I only hear it when it is doing some work. If I use it, it will be worth it...


------

My only problems are...

I could not get the Intel AHCI BIOS to hot plug with this device! I am using Vista x64, all the updated drivers, etc. It was detected fine with the AHCI BIOS was scanning devices and Vista seen it, but once it was unplugged, it wouldn't detect it again until reboot. There was no safely remove hardware option.


My solution was to turn on the Gigabyte GSATAII controller, install the Gigabyte drivers in Vista, restart, and then everything was wonderful. When I plug the drive in, things will freeze for about 3 seconds, and then the drive is detected. I turned off write caching, but I cannot optimize it for quick removal, and I read this is normal. However, it does appear in safely remove hardware.


The WD6400AAKS issue though is still very puzzling. I'm honestly second guessing Intel's AHCI controller, especially with some of these new SATA drives. According to some google searching, it seems that I am not the only one having with problems and this controller.

I also redid my wiring because I wanted to use the FDD power wire and I wanted to prepare for the new BR/HD drive at the top. It is not as clean as my first job, which regretably, I didn't take any pictures of due to my fustration!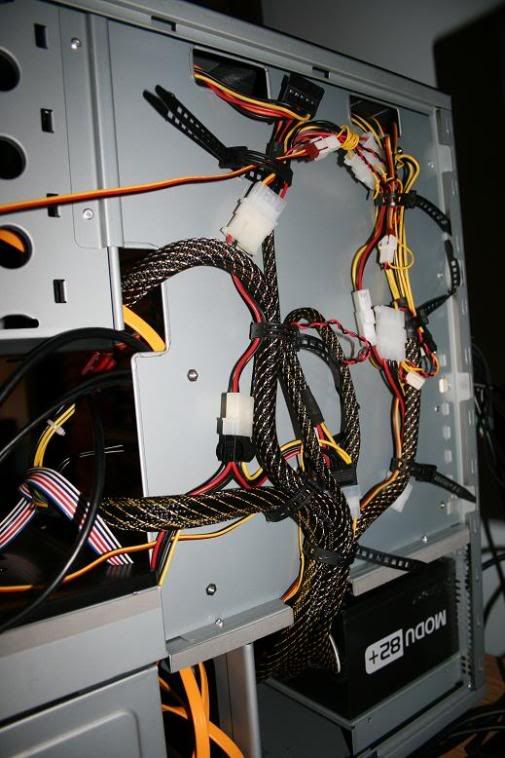 -----

Coincidentally, I just found a VERY similar product to the SK01 converter, but branded by Rosewill... in fact, I think it is the same thing, just without the 5.25" converter.
Rosewill RX251-US

-----

I suppose I am pretty complete at the moment. I would still love to address any questions or comments you may have, so please post! Thanks for looking!