---
Update:


I finally got around to pulling the pictures of my digital, messing around with them, etc. I will try to fill in my story and experiences as I go... from START to (Pending) FINISH!

First looks
Lots of stuff in lots of boxes. I cheated before I took the picture and looked at some things. Kind of funny thinking that all those boxes are going to equate to a PC!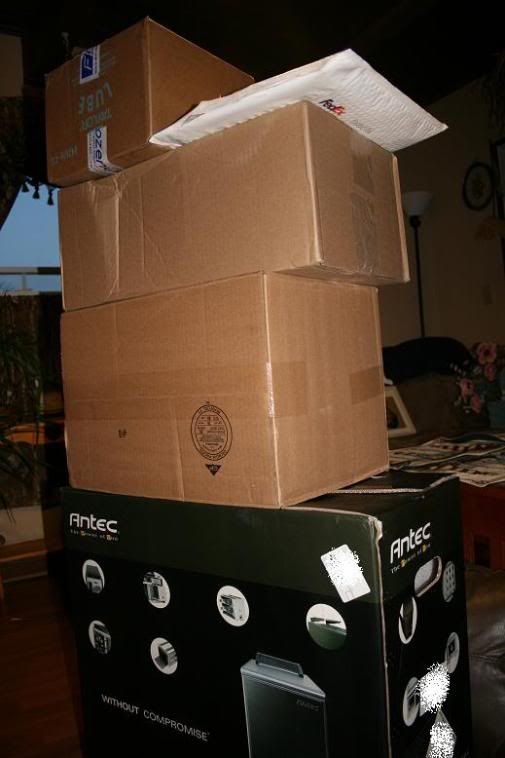 OEM CPU - My first
I never bought an OEM CPU before. This is the Q9300 described above. It came out of the Fedex padded mailer, with another padded mailer inside of it, then this little black box. It seems to work great, but I was scared about damage at first! (I used MS paint to remove the s/n from the pic)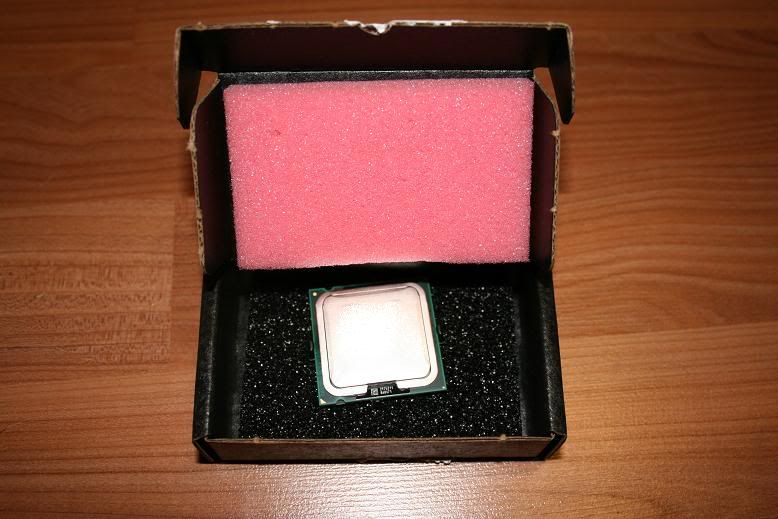 Newegg OEM HDD Packing + RMA story?!?!
Incase you did not already know, Newegg packs hard drives a little on the easy side.

I ended up having a DOA one, maybe not Newegg's fault though. I had an advance RMA with WD, but, after 6 business days and 4 phone calls... I find out the RMA is delayed for up to 2 weeks because of inventory issues. I went to cancel the RMA over the phone, which turned into a 30+ minute hold and supervisor chat. They tried to upgrade me to the Cavier 750gb but I declined and told them if they sent it I would decline it as well as any charges made to my CC. Long story short, took the system 12 hours to clear the RMA. I called Newegg, waited 1 minute on hold and 3 minutes of talking... they issued me a refund RMA and free return shipping, and told me to go ahead and just order a new drive so I'll be ready to go. I expect it tomorrow!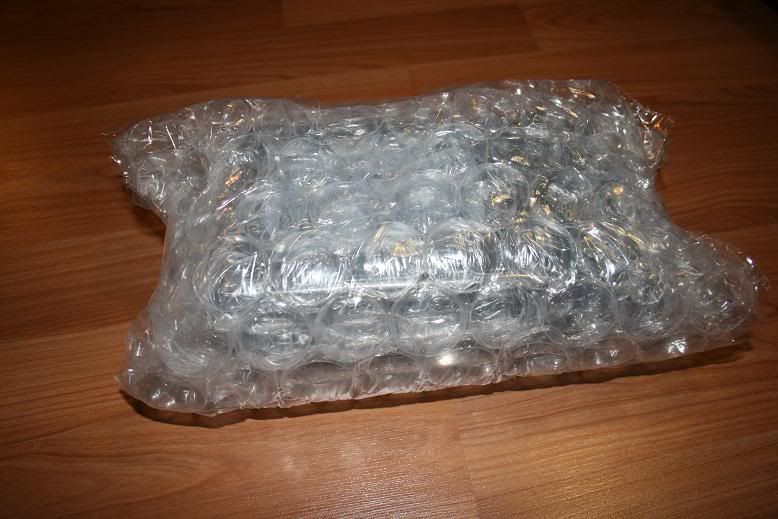 My unassembled trophy case...
Everything is unpacked and ready to go. I didn't buy the BR/HD-DVD ROM drive that I listed, but I have it on order today. I have also ordered a WD Passport 320GB drive to disassemble and put into a 5.5"/3.5"/USB -> 2.5" notebook drive bay (cost me the same as the 320gb drive, its the same thing, and I get an attractive SATA notebook harddrive reader out of it!), and 2 more gb of the same cheap ram (like $26 after rebate!)




Remove the Antec Fans! THEY'RE LOUD!
I removed the bottom bay fan, but later put a slipstream down there to cool the hdd bay. I was going to leave it out, but, decided it wouldn't hurt.

I have pictures of me taking out all the other fans and switches, but it's boring!


I also pulled out all the HDD cages. She's pretty naked now!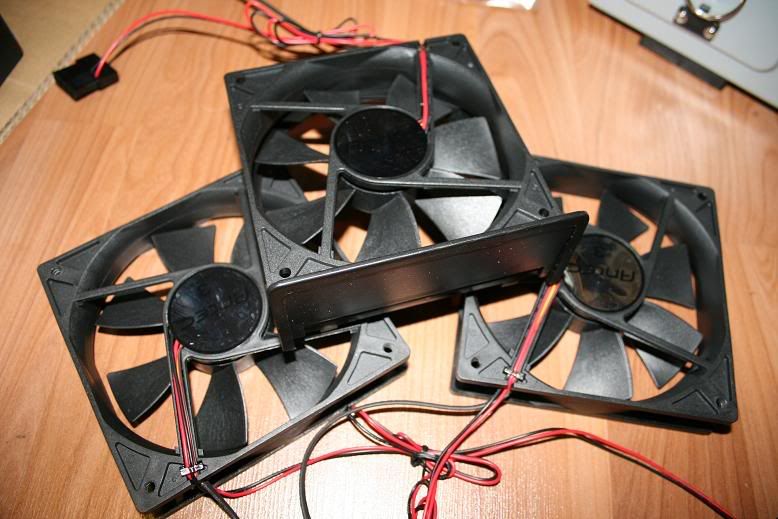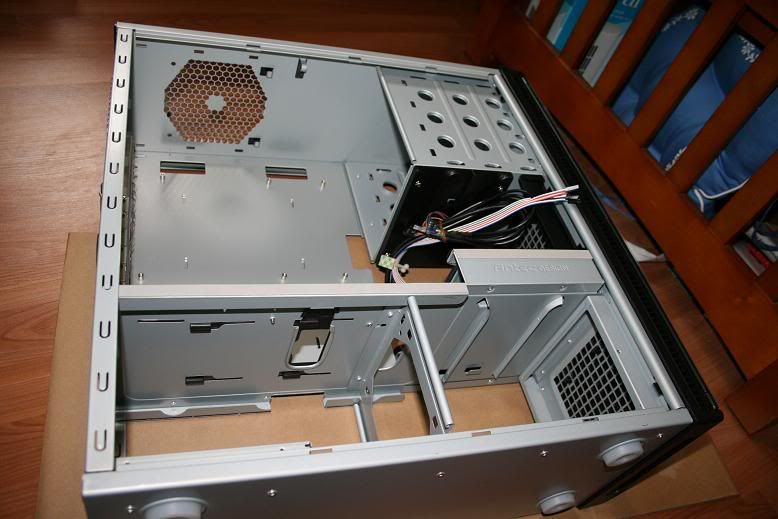 The coverup...
To avoid the great air short from the exposed top vent, I used some duct work aluminum tape and some of the P182's black box to cover things up. I actually just roughly measured things and cut the box with a pair of sissors. The tape is a bit more difficult to work with... very sticky stuff. After that, I installed my first slipstream into the case. Like most quality fans, they have a little arrow pointing to the airflow direction. Very helpful when you haven't installed a fan in a few years!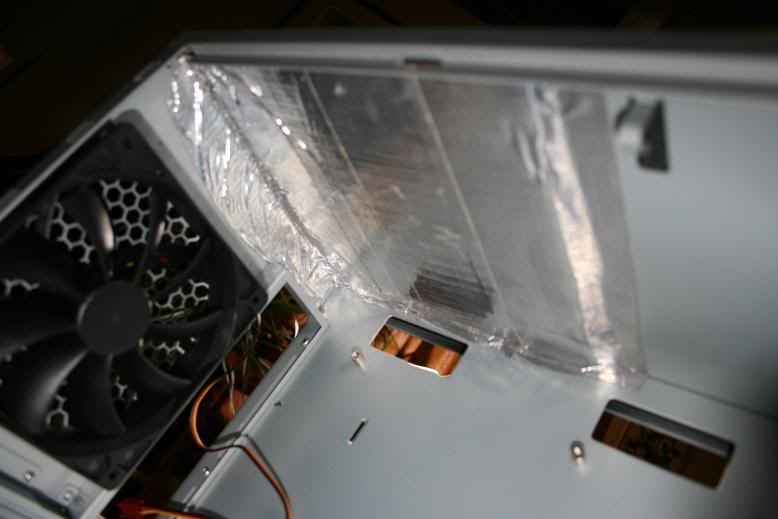 The front air intake mods
For those of you who haven't actually read about this already, the front air intakes are pretty weak from the factory. I don't know the exact difference in airflow or pressure, but look at these pictures and you'll understand better.

The doors are pretty restrictive. With a sharp razorblade, small file, and about 30-45 minutes per door, I was to fix that problem quickly. Look at the "before" on the left verses the "after" on the right.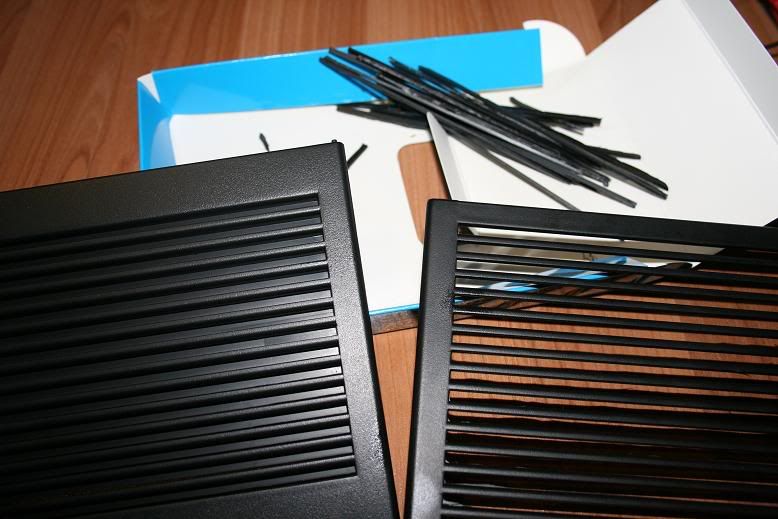 Both the doors after the surjury:


I also cut the bottom and middle fan grills out of the case, just for some added effect. I didn't bother to smooth them off, since I didn't think anyone would be poking around in there. Not sure if it made a big difference or not, but ehh, why not. I left the holes for the stock dust filters, since my environment is relatively dusty and there is some animal dander. It was a pain in the neck after things were built to bend the remaining fan grills so the dust filters didn't grind the fans. It is possible, just takes trial and error!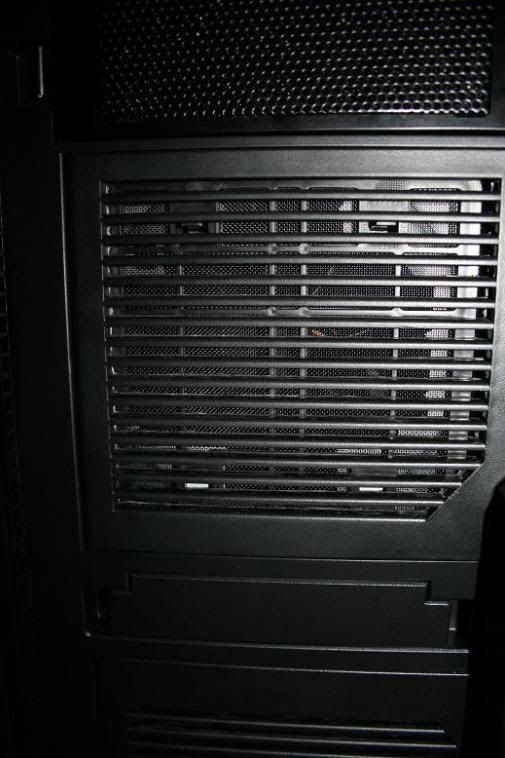 KAMA Bay Issue?

This was a little time consuming to figure out the screw arrangements to fit in the P182. Since the P182 uses a rail-based system for the 5.25" and 3.5" bays, it is kind of hard to directly screw something into the chassis. I replaced the original Scythe fan with the Slipsteam as an intake, and mounted it towards the bottom the 5.25" bay (more inline with the heatsink). Then I used some of the hvac aluminum tape to secure the rails inside the case. Worked like a charm, my KAMA bay is tight and flush with that screw configuration!




My Enermax MODU82+ 625W story...
I agreed entirely about the idea to mount the intake fan upwards, so I did at first. The cables were definately long enough to go through the P182 cable routing on the inside, but, I wanted them behind the motherboard for improved airflow. Well, then the 4/6-pin connector is just a little short. I ended up flipping it around (you will see this towards the end), intake fan down. Another thing I forgot, this PSU doesn't have any front/back fan. The modular cabling plugs are inside, so no fans there! This is not a problem for the MODU82+ since it runs really effectively, and even the intake fan doesn't seem to exceed 500rpm under full load for me. For my hard drives though, I put the slipstream back in the bottom position just to pull some heat away from them.

Later on in the story, all their cables are beautifully braided and just the perfect length for this P182 project. I haven't tried any other PSUs in this case yet, but speaking from past experience, I've had some cables that needed extensions or other cables that I wish I could cut!

(PS - Enermax people are smart, they wrote MODU82+ so their logo appears upright. I thought after I flipped it, that I was putting it back the same way...
)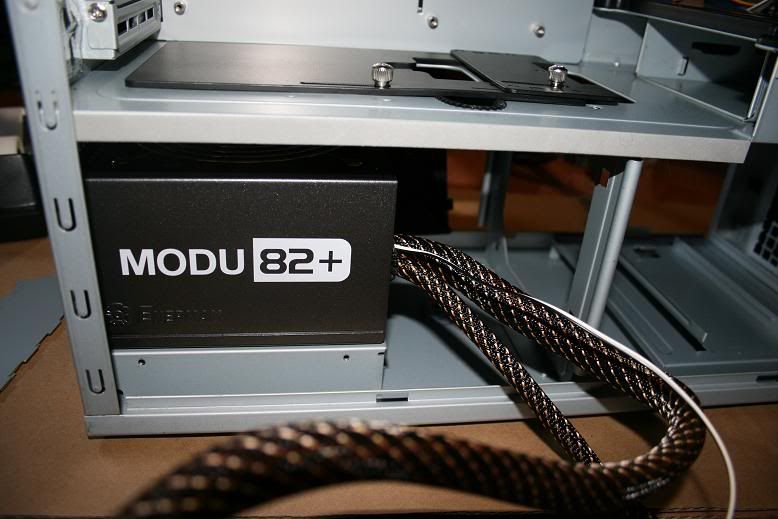 The video card... go Accelero!
Well, the EVGA 9600GT had a beautiful heatsink fan combo on there at first. Now it's sitting in a box! I was scared at first to do this modification but I already bought everything. Amazingly enough, the directions were pretty clear to me and so I dove into it after my debate.

My squawk list is pretty minimal here.
I couldn't get anything on the voltage regulators. I know the package has a VREG heatsink for ATi cards, but no matter how I tried to squeeze it in, it just wouldn't go. So I left it, nothing on the VREGs, and no problems yet.

The one RAM heatsink towards the edge of the card, will hit the heatpipe unless you move it. In the picture, it is the little black square (8 total) closest to the PCIe locking peg on the video card. I had to kind of carefully push the heatsink while holding the S1 above it, until it fit. The heatsink is probably hanging off the RAM by 1/3rd of where it should be.

The mounting holes for a 9600GT are not specified in the older directions. They use the same as at the 8800GT, which is the outside set of holes. This was made clear on the website too, but, I had to look it up to be sure.

The retension clips are kind of a pain too. Just be careful not to screw down the card (read the instructions!) enitrely before trying to mount the clips.

Before: Old Heatsink behind the naked card...

After: AC Accelero S1 Rev. 2 mounted to an EVGA GeForce 9600GT


The HUGE tower
Ok. I seen pictures of the Thermalright Ultra120 Extreme before, but it is really beast. I was almost afraid it wouldn't fit in the P182! Well, to be honest, there was not much to talk about here. I ordered additional fan clips that I didn't need, oops. They included a thermal interface material, I ordered more from Tuniq, but ended up using my Arctic Silver 5.




It was kind of hard figuring out how to attach the slipstream to it, but after about 5 minutes I got it. The pictures can explain it better then I can, just look at the way the clips are attached. Remember to put the included antivibration strips on it before the fan. Not only does it serve a point, but it helps the clips to be tighter on the fan.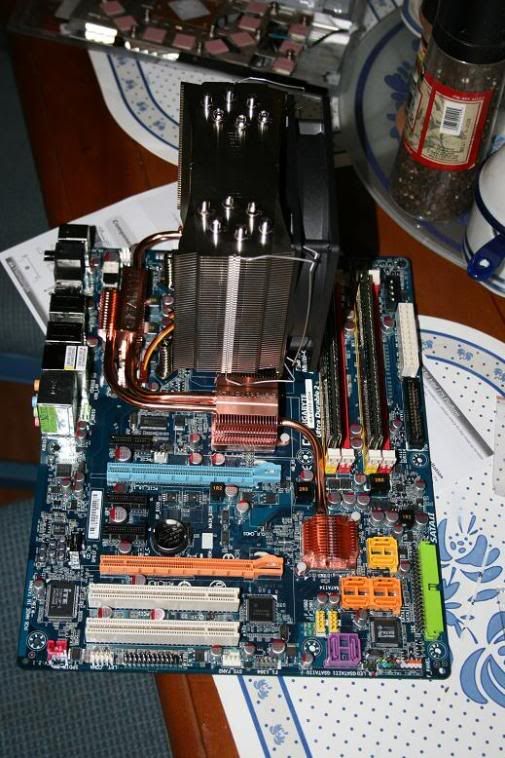 No problem though. It mounted great to the Gigabyte EP35-DS4 mobo using the screws and backplate compared to the Intel OEM HSF push-pins. I will NEVER use the push-pin design heatsinks again. The push-pin heatsinks always concerned me that they were not set properly, I usually use a regular screwdriver and push the pins down manually and lock them.

All that was left was to mount the motherboard and heatsink into the case. This was probably the easiest thing ever. The rear I/O panel fit perfectly, the motherboard standoffs were all correct in the P182 (no less or more needed), easy.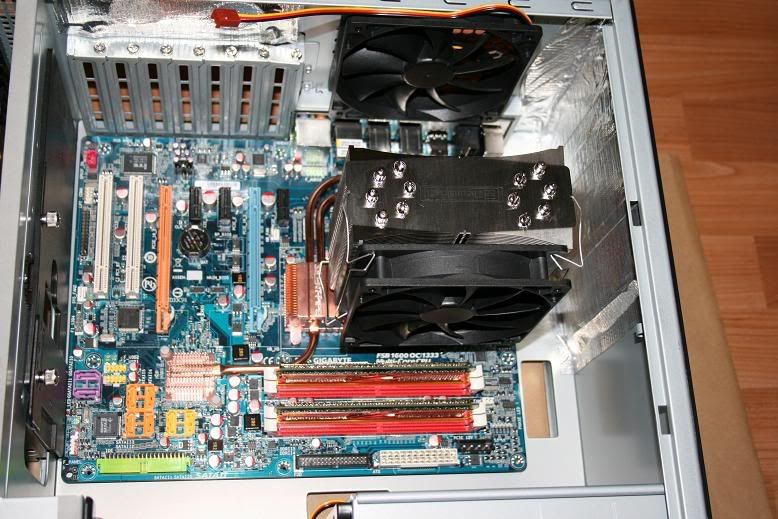 Almost done...

Wiring in this case wasn't that bad. I had to use the provided wire clips and make things pretty tight. The MODU82+'s cables are kind of thick, but, still reasonable to fit in the P182's behind the motherboard cable area. My stratgedy was to keep the cables as tight together without overlapping. I worked the excess cables in a clockwise pattern until I could comfortably place the side panel on. Takes me about 15 minutes every time I change a cable though.

Aside from a few recent changes, the interior still looks about the same now. I will be getting rid of the IDE cable since I will install the SATA BR/HD drive and I will work on tucking some of the cables away better.




My First Bootup
Amazingly, EVERYTHING worked perfectly on the first boot. NOT! As I said earlier, the dust filter on the middle air intake was hitting the fan when it was running. With a pair of pliers, trial and error, and patentice, it was fixed.

The DOA hard drive was discovered prior to my O/S install, when I enabled SMART and the AHCI Intel controller... it was locking up the system when initalizing the drives.

The system was significantly quieter then my circa '05 Prescott in a Thermaltake Xaser V, all stock cooling, but, I heard the fan hum!


Other then that though, I can't report any major issues. All were kind of minor things.

Fan Noise Resolution

Ok, I was "quiet" but not "silent". So I said, lets consult the wiser and I made another thread... see here

I thought a fan controller would solve my problems, but, I guess I really wasn't interested in another device, all the extra cabling and wire routing, etc. So I did my first voltmod ever! I went for the safer 5v approach, since I didn't want to risk damaging my beautiful new power supply. See the below picture!

I ended up running more wires anyway, I put the fans on their own modular cable... and daisy chained all the 4-pin molex connectors together. I can easily plug in whatever fan I want to the 5v or the 12v that way (except for the CPU fan, which is my ONLY motherboard controlled fan). I may put a switch in to do that, but honestly, I'm loving the 1200rpm Slipstreams running at 5v... I'm getting a hair under 800rpm from the BIOS reading.




Bright lights are annoying...
A simple mod here that I learned in preschool. Black construction paper works wonders for blocking off light! The hdd1/hdd2/pwr lights in the P182 are kind of bright and they "leak" out the side vent area. This is annoying to see at night or even during the day... lights flashing in your eyes. This is another reason why I'm glad my Xaser V is retired! So I took the front plate off again, cut up black construction paper, removed the LEDs (except for PWR), stuck the construction paper in the grooves (you will see what I mean if you look at that inside LED area of the front plate), put the lights back in, and then wow... no more bleeding light. See the picture for the "after" effect.




I love this machine... but more to come!
Although my build is still not complete and I am waiting on some additional items, this is truly one of the best machines I've worked with. I'm very satisified that I stayed away from watercooling! Without any lab-specifics, I can BARELY hear my system from about 2ft away. The loudest thing I hear is the hard drive seeking, and even that is so quiet I barely notice it.

So far, everyone that posted here is about right! Honestly, I think I'm a little overkill, but then again, I'm happy with my noise levels.

The temperatures are pretty low. At this very moment, Realtemp reports me at 42C on average, under full load it does not exceed 50C. The mobo reports an ambient case temp of 40C (its 28C in the room, maybe this is a little high?), 25C at processor. Speedfan reports the HDD is at 34C, all fans under 800rpm, PSU fan at 490rpm, RivaTuner reports video GPU at about 46C and around 50C after playing games for around an hour. All these numbers seem to be far within tolerance and I have very little noise to worry about.

My BIOS shortly after boot: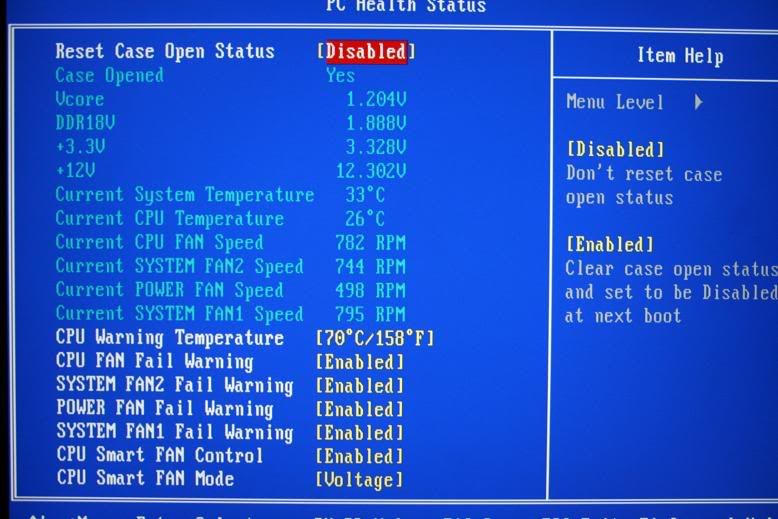 (PS - I know my RAM is specificed for 2.1v, but it runs fine and stable at the 1.9v)

Well, I wrote enough for one night. Phew!

Oh, and for the fans...


1) Exhaust Scythe Slipstream 1200rpm, 5v undervolted
2) Heatsink Scythe Slipstream 1200rpm, MB Voltage Controlled
3) KAMA Bay w/ Scythe Slipstream 1200rpm, 5v undervolted
4) Middle air intake Scythe Slipstream 1200rpm, 5v undervolted
5) Bottom compartment, pull-oriented from HD bay to MODU82+ Scythe Slipstream 1200rpm, 5v undervolted
6) Stock MODU82+ Fan, MB connected

I will update for forum after my new orders arrive and I get things installed. Thank you SPCR community for your continued efforts, advice, and years of combined experience!


I feel successful and I'm not even done yet!