---
UNBOXING



Upon opening the box, you realize how big this case really is. I was a little prepared for this case after seeing the new LanBoy Air in comparison to my old Antec 300. But this is a FULL-SIZE ATX case. It's very well packed in heavy-cushioned polyethylene foam. It's also wrapped in a PE bag and inside the case is the bag of parts and goodies. One other intriguing thing I've found on recent Antec cases is that they no long package metal or electronic components with silica gel absorbent baggies. Instead, there's a small sheet of brown paper that is specially coated to have the effect. I guess this could be a move to a more eco-friendly method of moisture absorption or to keep kiddies from eating them.

Unfortunately (to me anyway), for its size, it's surprisingly lightweight. It is made out of relatively thin steel which, for a quieting standpoint, is usually not a good start. Despite the thin metal, the build quality seems very good. The plastic parts are all sturdy enough to hold up under repeated use, with the only exception being the 5.25" drivebay covers.



EXTERIOR



Aesthetically, you either love it or hate it. The Dark Fleet series is essentially a reinterpretation of the Hundred-series cases with some extra goodies thrown in. In this case, the DF-85 is a Twelve-Hundred in a black-and-red guise. Additional changes include the switch from a single 200mm fan on top to 2- 140mm Two-Cool fans. Also, the internal front 120mm fans with their variable-speed controls are broken out into 3 separate (and lockable) Fleet-Release bays containing one fan/controller/filter combo each. Each Fleet-Release bay acts as a door (lockable from the inside) to access the Fleet-Swap bays which I'll discuss later. The only downside to this configuration is that the fans cannot be removed without some work.




The 5.25" bays are each covered with a small plastic latch that seems to have no apparent purpose other than fit in with the Fleet-Release bays below. It can't be locked down, so it doesn't prevent any media theft from a DVD/CD drive.




On top is the control panel, including the power and reset buttons (including PWR and HDD LEDs), two 3.5mm jacks for Mic In and Headphones, 3 USB 2.0 ports, and a single USB 3.0 port that is colored blue to differentiate it. This USB 3.0 port is connected to a long USB-A cable that must be routed through the case out the back (via the special included slot cover) and into the corresponding port on the back of the motherboard. It would have been nice to have this connected to a standard USB 3.0 pinout header, but since the standard had not been completed until around the time this case was released, it's forgivable. This provides the most users with the ability to use the port, even though it's a kludge.

Also on top is the 2.5" Fleet Swap bay. This bay is kind of an anomaly to me as well. First off, it's ugly. It's like a hump-back right on the front of the case. Secondly, it not secured, so it must be meant for a portable, removable drive. I don't know anyone that carries a bare 2.5" hard drive around with them…maybe a portable 2.5" drive, but that's already in a USB enclosure, without SATA connectors. If it were truly meant for a portable drive, it should still be lockable. It's one thing to not have a $20 thumbdrive locked, but a 2.5" hard drive which could be worth $100 for a standard platter-based unit to several hundred $$ for a SSD, this just seems like a giant problem. I'm not a huge LANparty guy—and it's unlikely you'd use this case in that instance anyway, but this drive is on the small Dark Fleet cases as well—but in that instance, your drive could be easily swiped. Given the appearance of drive security elsewhere on the case, this doesn't really fit.

The whole of the case is very open to airflow, which in my mind is a bad thing. I'm a firm believer in directed airflow paths, and when the case is peppered with holes, it's hard to make sure the air is going where you need it to be. I know Antec does this for a reason; I'm just not sure it's the right one. The main problem is the acrylic window on the side. It has a mounting point (and hardware) for an additional 120mm fan, but the fan is not provided, nor is there any accommodation for a filter for a fan. Given the amount of intake air this case provides with the 3 front fans, one has to wonder if the side fan is necessary at all. Should one choose not to use this fan, there is a gaping hole in the side of the case that, given the unbalance in intake to exhaust fans, will just suck in air (and dust) through this opening, defeating the purpose of the filtered intake entirely. Even if one blocks off this intake (see below), there are still too many holes in the back panel to create a dust-proof case. The peripheral slot covers are all vented as well, which even though it has become a marketing point for many OEMs, seems silly to me.



INTERIOR



The entire case is painted black, including the inside, which gives the whole case a much more refined, sleek look, despite its size. The DF-85 is divided into 3 main areas: the main chamber, the upper drive cage, and the lower drive cage. The main area is quite large and has options for mounting mini-ITX, microATX and standard ATX cases. Unfortunately, like the Twelve Hundred, the DF-85 does not support EATX motherboards. The lack of motherboards of this size doesn't make it a huge oversight, but given the extreme gamer targeting of this case, it's an oversight, nonetheless. Looking closer, the motherboard tray has several options for cable routing, from the cutouts for routing behind the tray to the multiple tie-off mounts (with adjustable tie-down straps included) on the backside. There's also a large cutout for easy installation and removal of a heatsink backplate. I generally install my heatsinks outside the case anyway, but it's nice to see, nonetheless.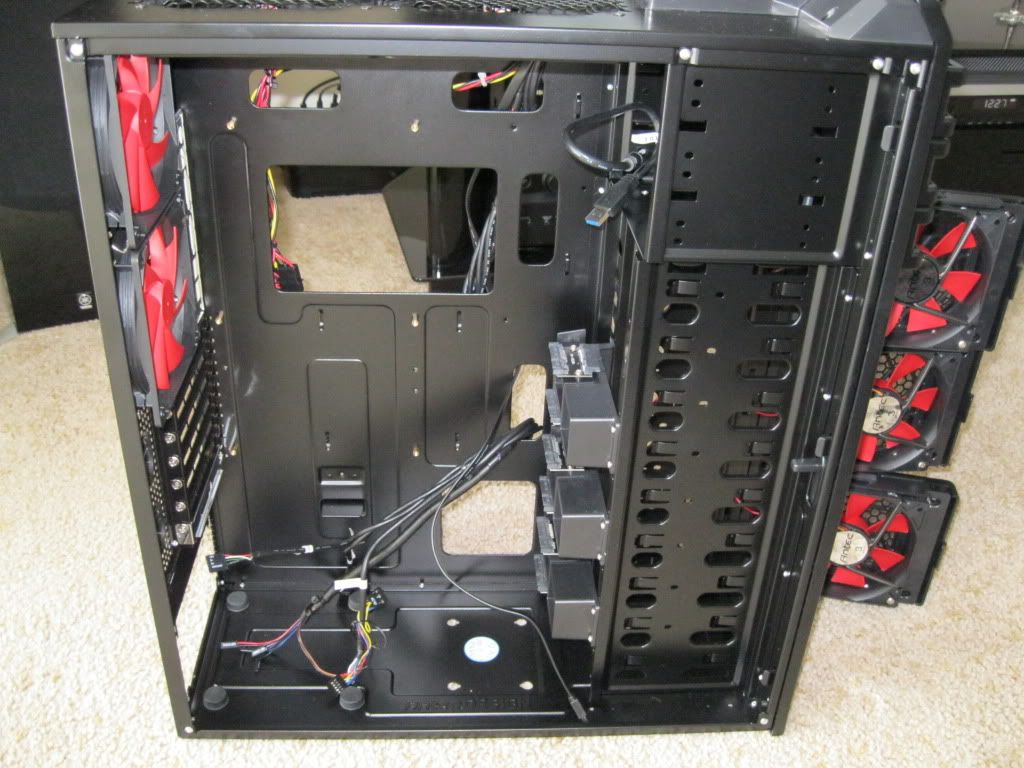 The exhaust fans are also housed in this area. There are two top-mounted 140mm fans and two rear-mounted 120mm fans. All four fans are connected to a switch-panel on the rear of the case for controlling the fan speed to each fan independently. The fans are the new Two-Cool variety included in newer Antec cases (like the LanBoy Air) which can be switched between low and high. These would be somewhat equivalent to the Low and Medium settings of the old TriCool fans shipped with the Hundred-series. The TwoCool 140mm is variable between 800rpm and 1200rpm while the 120mm is variable between 900rpm and 1500rpm. To be honest, I can't envision a scenario where you would need then to run them any faster. These fans are not "silent" by any stretch, but at the lowest speed they are relatively quiet. The fans are all standard sizes, so they can be switched out with quieter fans (with a little work), but you lose the use of the switch. I'd prever the Tricools, as they run a little slower and quieter on low, but they were insanely loud on high and since that speed is probably never used, it's probably a smart move on Antec's part. I do wish the speeds were set lower, though. The rear exhaust fans also have dim red LEDs that add a nice soft glow to everything. I'm not a big LED guy, and I wish there was a way to turn them off, but compared to the blinding blue LEDs most of Antec's (and other OEMs) cases come with, this was an improvement.

In the rear of this area, aside from the vented slot covers, there are some grommeted holes for routing tubing for water-cooling. This area is perforated with some square mesh. I already spoke about how the case is too open, but luckily I found a fix that I'll mention later. Lastly, the PSU mount is located in the bottom of the main chamber. At the very bottom of the cage, there are some cushioned stands on which the PSU can rest without transmitting vibrations. The PSU mount is similar to many newer Antec cases (usually mid-tower and larger) that allow either mounting of a standard ATX PSU (using the included adapter plate) or the use of their proprietary CPX-style PSUs. This form factor is taller than the standard ATX design which allows for more space in between the PSU hardware and also allows for the use of a 120mm in a front-to-back fashion. This provides much better cooling for the PSU and allows it to run much quieter as well. Unfortunately, it doesn't appear this form factor is lighting the world on fire, likely due to the fact that only Antec cases support it, and I wouldn't be surprised if they pulled the CP-series off the market soon. I love the idea, however, and think it's one of the better examples of what Antec can accomplish when they think "outside the box".

The upper drive cage is standard fare, with space for 3 optical drives. This area also routes the front panel cables. We already discussed the latches on the front and the USB headers…that's about it…nothing else to see here.

The lower drive cage is where the real action happens. We already discussed the Fleet-Release bays on the front, so let's keep this relegated to the inside. The case comes with 2 Fleet-Swap modules, each of which can connect to 2 SATA drives (power and data). Fleet-Swap is Antec's way of creating a modular SATA backplane for hot-swapping. These modules are hooked on one side and secured with two screws on the other. While they modules are twin-connectors, they can be arranged in any configuration to fit just about any configuration of SATA devices. They can also be removed altogether for use with older IDE drives. The entire drive cage is arrayed around Fleet-Swap, however, from the slots which the HDDs will reside to the screw-holes for securing each drive.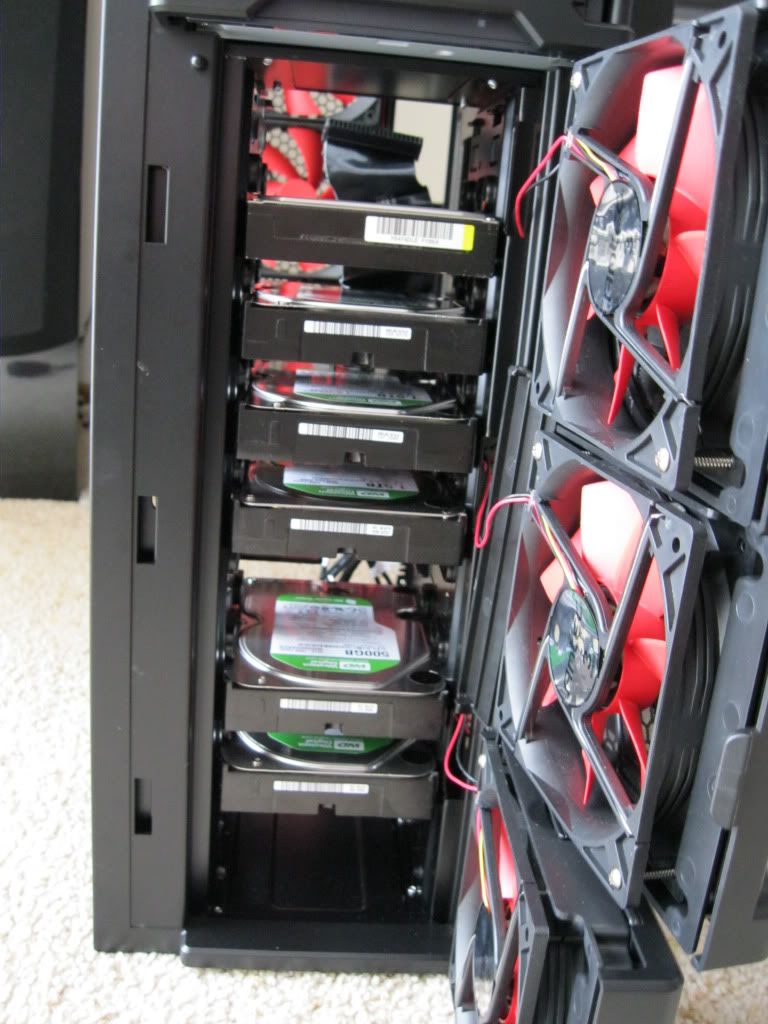 From first look at Fleet-Swap, it's a brilliant idea. It makes ease of installing HDDs a true Plug-and-Play affair, and removal is just as easy. The modules hold onto the drives very well, so securing each is not really necessary, unless moving the case roughly will be expected. It also allows one to figure out their cable routing arrangement before actually installing the drives.

There are some faults in the execution of this idea, however. First, they are dual-connector modules, so you can only use them in pairs. Not a big deal, I know, but combined with the next problem, it makes it more problematic. Next, though the case has 9 - 3.5" bays, for some reason (likely cost) Antec only decided to include two Fleet-Swap modules. Doing the math, that only gives you spots for 4 drives. You can purchase additional modules, but only from Antec's online store and at $15/ea, they are not cheap. Furthermore, the modules are not compatible across the Dark Fleet line, as the DF-35 uses smaller modules. The most troubling part of the connectors is the lack of a locking SATA connector on the rear of the modules. This is a REAL problem. Twice when I was relocating my WHS system to this case, my 90-degree locking SATA cables came off the F/S modules. The reason locking SATA connectors exist is because of the lack of friction holding the cable in place. Because Antec's connectors do not contain a full plastic shroud around the connector (like a drive does), it allows the cable to wiggle loose with relatively little effort. Identifying the problem allowed me to rig up a solution, but one that shouldn't have to be solved. It didn't seem to be relegated to my locking cables either, as I tried several locking and non-locking cables, most of which were standard straight connectors and all exhibited the problem.

Antec was nice enough to send me two extra modules so that I might populate all the drive bays. While I have yet to fill it up completely, I have 6 HDDs in the case now, one of which is my IDE boot drive (never could get WHS running off a SATA drive reliably) and once I found a way to keep the connectors from moving, I really fell in love with the ease of install/removal they provide.
I should also mention that there are grommets and other hardware for accommodating a 2.5" drive (SSD or otherwise) in the bottom slot of the lower drive bay, but I didn't try this feature out.



MODIFICATION



Once I was able to assess the problems I had with the case, I started to formulate solutions. Granted there are probably better working (and better-looking) solutions to the problems as I saw them, but since this is going to be functioning as a WHS in my basement, looks aren't my focus.

To start off, I had to do something about the side panel opening. Normally on a standard steel case panel, I'd use fan screw to secure something to the back side and use black headliner fabric (felt and foam sandwich) to cover the hole. That wasn't an option with an acrylic window, and I don't really have the equipment to cut an intricate piece of acrylic in the shape necessary to create a blank. Luckily, the window ships with a static-cling film on each side, to protect it from getting damaged during shipping. I was able to cut a small piece of this film to the approximate shape of the opening and used some clear cellophane tape to secure it in place. The picture shows both the tape and film well, but in actuality, it's not that visible. With the lights off and the LEDs on, you actually can see it at all.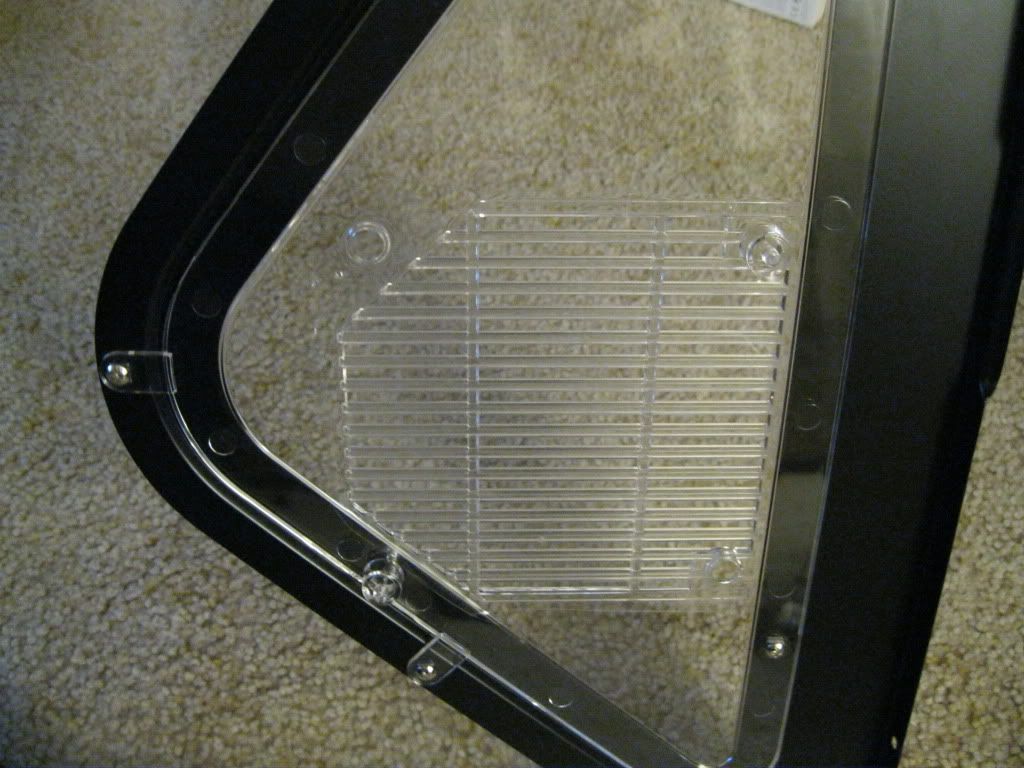 Next up was the grommeted holes and square mesh on the backside of the case. I simply used clear packing tape on each side to cover the holes without making a huge mess. Normally, I'd use black vinyl tape, but since the area was so wide, I would have had to use several strips, which would have looked even worse.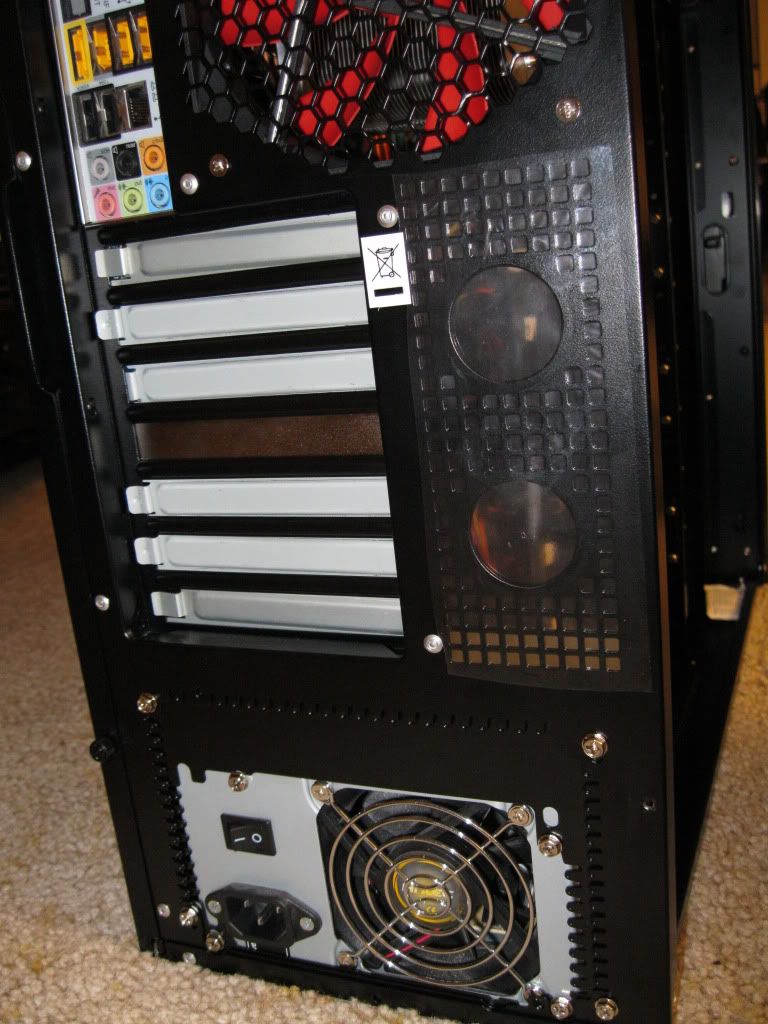 Also in the same area was the vented slot covers. I have plenty of old slot covers from previous builds long past. A simple switch and now we're back to a straight front-to-back airflow pattern.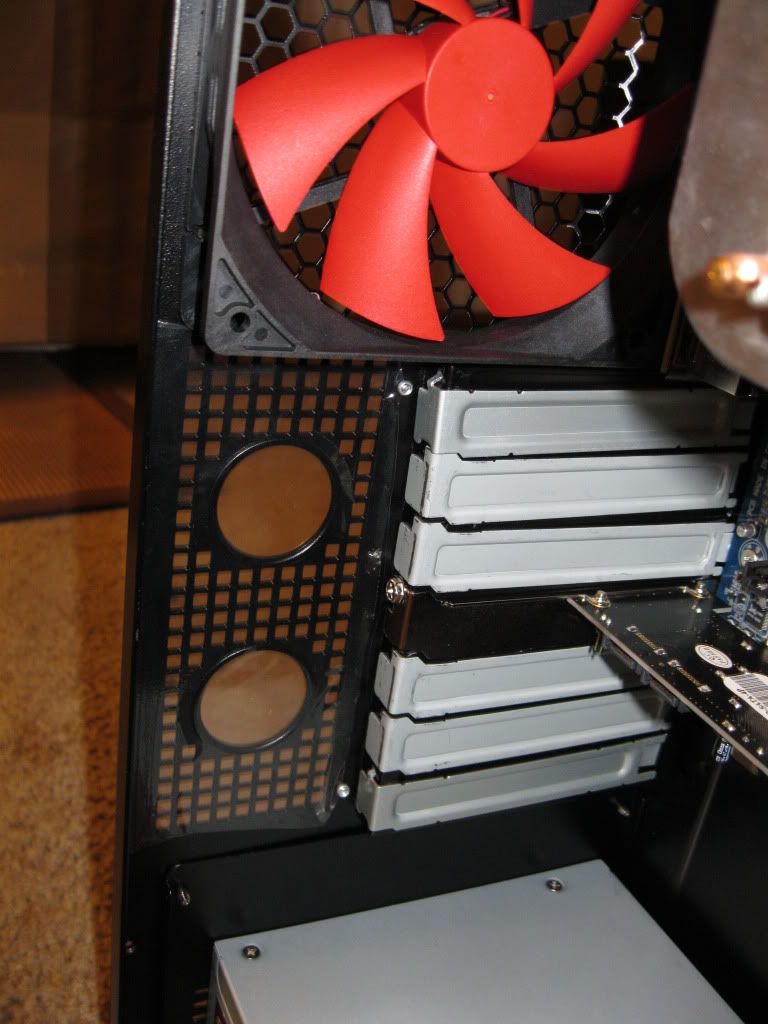 Last thing to deal with was the Fleet-Swap connectors. By using zip-ties on all the cables, it locks them all together and prevents movement of the cable individually. I would do this anyway for cable management purposes, but it helps the problem. One might use vinyl electrical tape for additional security, but I try to keep the sticky materials away from any electrical connectors.






INSTALLATION



As I mentioned before, this case will be used to house a Windows Home Server containing the following hardware:
• Gigabyte GA-MA78GM-S2H (780G) motherboard
• AMD Athlon X2 4850e (45w) dual core processor
• 4x1GB PC6400 DDR2-SDRAM (2GB each of PQI and G.Skil, I know, I know…)
• Antec Earthwatts EA-500D – 500watt PSU (Delta version, not Seasonic)
• Arctic Cooling Freezer 7 Pro heatsink (fan removed)
• Generic DVDROM drive
• Syba 4x PCI-SATA controller (Sil3114 based)
• Western Digital WD5000AAKB (500GB Blue) primary drive
• WHS Drive Extender Pool drives (all Western Digital) – 5 total

o 2 – WD15EARS (1.5TB Green)
o 1 – WD15EADS (1.5TB Green)
o 2 – WD5000AACS (500GB Green)

My install went relatively smoothly aside from the above modifications. I had to relocate the motherboard standoffs for use with a micro-ATX board. Also, my EA-500 PSU doesn't have a 4-pin ATX12V cable that is very long. I was able to get it to reach by routing it underneath the motherboard with some creative cable management. That helped to keep things tidy, but if you have a short 4 or 8-pin 12v cable on your PSU, you may want to think about getting an extension adapter.




With all the cutouts in the motherboard tray, routing cables cleanly is no problem at all. Luckily the included fans come with VERY long power leads and all have a daisy-chain molex connector at the end. With this connector they can all be attached together and tie up only one single lead from the PSU. On the back side of the motherboard tray there is plenty of room for excess cabling to be routed and the inclusion of all those tie-down hooks really helps. There is also a nook on the back side of the lower drive cage with more hooks and space to route used and unused cabling. I can't imagine a scenario where you'd have too many cables where the provided areas would be overstuffed.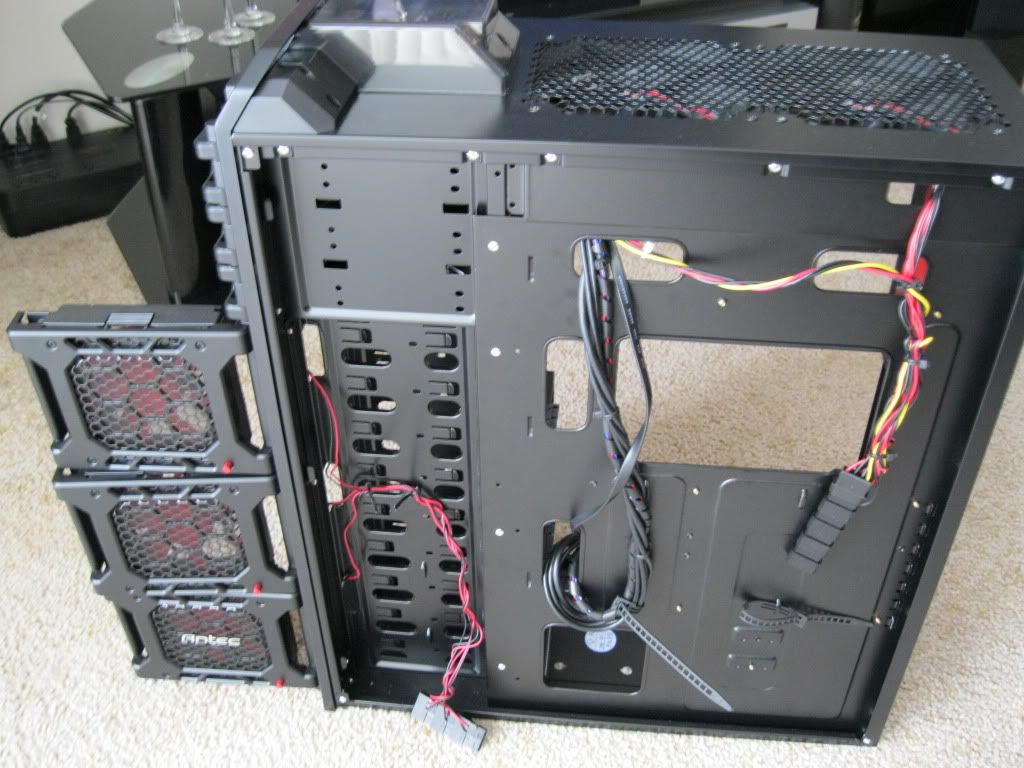 Since my build is using integrated video, I had no discrete card to wire up, and therefore had no clearance issues with the hard drives. With an extremely long video card, it's possible to lose the use of one or two Fleet-Swap slots, but since the modules can be moved/relocated, it's a non-issue.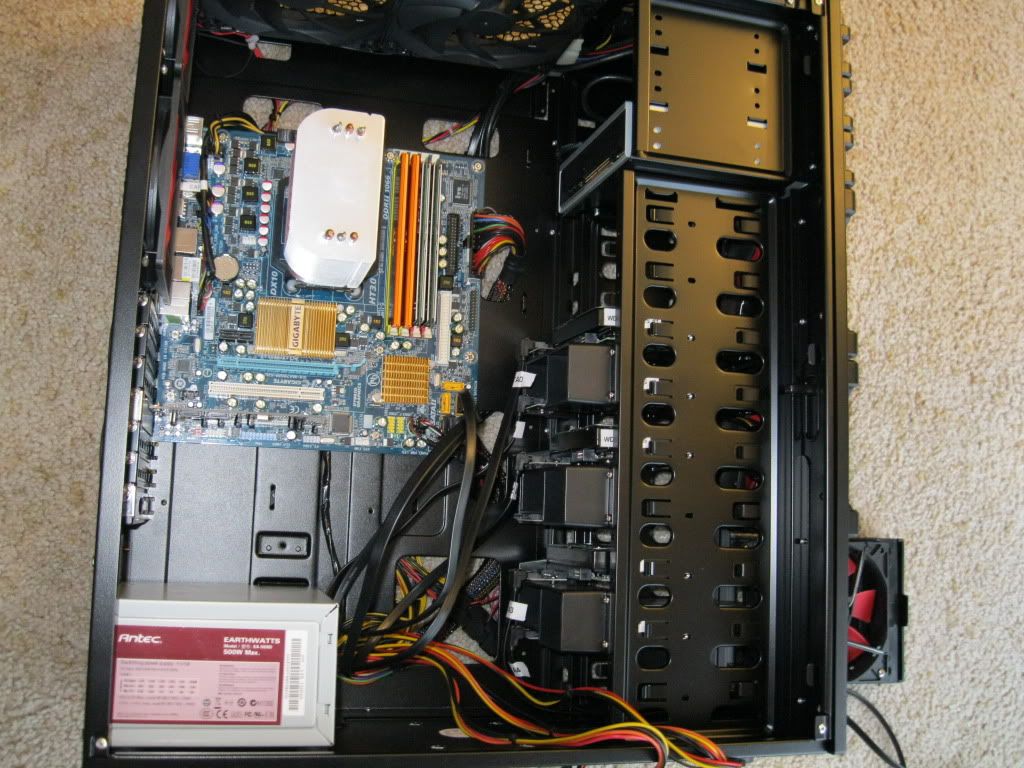 Once all the power and data cables were run, everything booted up without any problems. There is an massive amount of airflow through this case, especially considering the <100W system it's holding. In fact, there was so much airflow, that I removed the fan from my CPU cooler, since it was running so cool, the PWM controller wasn't sending enough voltage to start it.



Pros


• Large case, lots of space for any serious gaming or server system
• Good component layout (bottom mounted PSU)
• Fleet-swap (idea)
• Lots of cooling fans included
• Good fan-speed control
• Fan LEDs not too bright (red)
• Lots of cooling options possible (air or water)
• Support for Antec CPX PSU's
• External hot-swap 2.5" SATA enclosure
• Lots of cable routing options



Cons


• Aesthetics not for everyone
• Thin, lightweight metal
• Fans individually powered
• Fleet-Swap (execution)
• Too many exterior holes
• Front USB3 connectors need pass-through cable



CONCLUSION



Overall, this is a well-built case with a few significant weaknesses. It fits the extreme gamer case model very well, but given the Fleet-Swap feature, makes it a very good (home) server case as well. I'm not sure how friendly it would play with high-end server hardware (SAS cables and the like), but for the typical file/web server role, it performs admirably. It will house just about any amount of equipment one can think of in a single build and have room to spare. The exterior aesthetics may be polarizing, but inside, it's a beautiful case to anyone.
I also like the amount of fan control given out of the box, but I do wish the fans could be set lower and perhaps the LEDs could be switched off as well. The inclusion of a side-intake and the top 2.5" Fleet-Swap bay make little sense to me and seem like they were added at the last second without any real consideration of how it would be really useful. Finally, the flaws of the Fleet-Swap connector need to be rectified for this feature to catch on, but I applaud the idea from Antec.

Given its target demographic and use, I have to give the DF-85 a "B" overall. It has great features and functional design, but a few serious flaws keep it from reaching an excellent grade. That being said, I do really like this case for my home server needs and would certainly mention it as an option to someone who was looking for a similar purpose.