I saw this video, before I noticed this thread.
http://www.youtube.com/watch?v=9EV6pLzcRb0
He uses his 5.25" cage, and put in 7.5cm rubber plumming O-rings.
I had 2 problems.
1) My Fractal Design Arc Midi does not have a large hdd-cage I can use.
2) I can't find large O-rings.
So I came up with 2 alternatives.
1) I was thinking of building my own cage to put the disks in. However, I was afraid that if I didn't do it right, the cage would become another source of vibration. So I started thinking of a real cage, with bars, in stead of walls. I happen to have an old, large piece of concrete iron. I cut a piece of it. Folded it in the right size. I tied up the ends with tie-wraps, to make sure it would stay in the correct shape when putting it under pressure of tight elastic suspension.
2) Couldn't find the O-rings. My local plummer specialist had only 1 O-ring that looked good (I needed 4). The material made me think of kid's skipping rope. So I went to a toy store, and bought a skipping rope. The good thing was: the ends have a hook (to attach the ends to handles), which would make it really easy to attach the rope to the cage.
Result: HDD cage for 2 HDDs.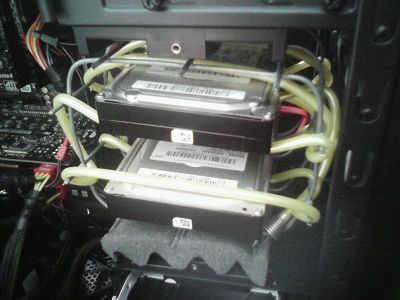 I also have a waterpump that could use suspension.
It turned out it didn't really improve the noise. But the suspension does free the bottom of the pump from the foam. And thus there is no risk of overheating the pump anymore.
PS. Those layers of noise-insulation hardly help. I learned (after building this) that that type of foam is meant to be used to "deaden" the sound. No more reflections. But it hardly stops noise going through it. It stops only 20-30% of the noise. So I plan to replace it with cotton-based insulation foam. (
See here an example.
) That stuff is supposed to work much better. Not easily available though, it seems.