I've had a number of cases, and neither the provided mounting or any modification I made could remove all of the HD vibrations. So, I decided to take a more radical approach: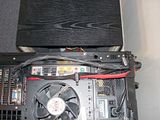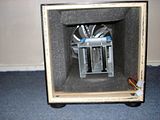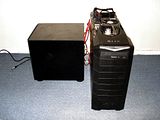 Coolermaster Stacker 4in3 module placed inside an old subwoofer box lined with acoustic foam, cooled by a 22cm akasa fan running @ 5v, connected to the PC via an extended molex + 100cm sata cables.
HD temps are 5-7c above ambient with no vibrations and very quiet (not silent as they are Samsung F3s).
Full size images:
http://i388.photobucket.com/albums/oo32 ... ru/top.jpg
http://i388.photobucket.com/albums/oo32 ... u/back.jpg
http://i388.photobucket.com/albums/oo32 ... /front.jpg
I know, the fan need a good clean