Specifications:
CPU: Intel Core 2 Duo E6700 @ 10x340 Stock VCore (~1.33 V) L626B091
Motherboard: Asus P5K Deluxe - (Only adjustments are NB Voltage @ 1.55 V and voltage damper enabled to reduce vdroop)
RAM: 4 x 1 GB @ DDR2-680 5-5-5-12 1.90 V (GSkill F2-5400PHU2-2GBZX, Kingston ValueRAM DDR2-667)
Video card: ATI X1900XT - 2D @ 400/400/1.00V - 3D @ 675/800/1.40V
Sound card: Sound Blaster X-Fi XtremeMusic
HotRodded
Case: Antec P180B
PSU: Seasonic S12-600
Hard drives: WD Raptor 150GB, WD 500 AAKS GB, WD 320 JD GB
Optical drives: BenQ DW1655, LG GDR-8164B
CPU Block: AquaXtreme MP-05 SP
GPU Block: AquaXtreme MP-01
Radiator: ThermoChill PA120.2
Pump: Laing D5 (Setting @ ~1.5)
Tubing: ClearFlex 60 3/8"
Swiftech MCB120 "Radbox" Revision 2
Case exhaust fans: ORANGE Yate Loon SL-12 @ 5 V
PSU chamber fan: BLACK Yate Loon SL-12 @ 5 V
Radiator fans: BLACK Yate Loon SL-12 @ 7 V
Both the CPU and its block have been lapped to 800 grit.
Temperature Data:
Ignore the RPM and speeds, since I have all my fans hardwired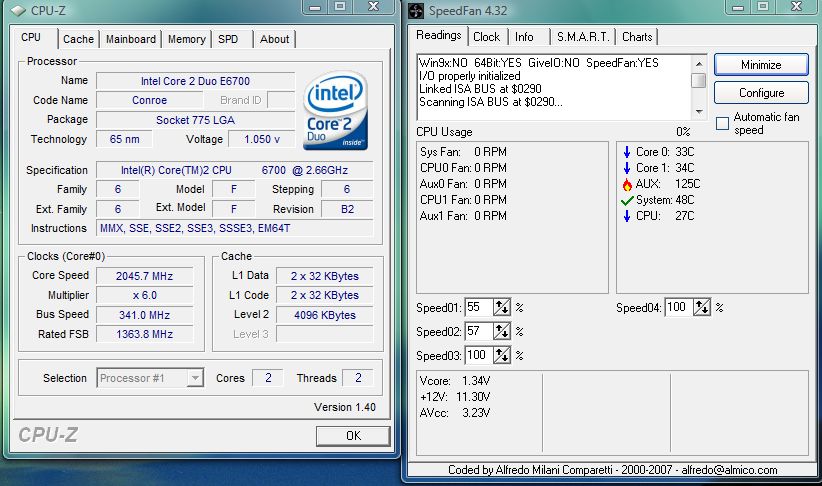 Idle temperatures. Ambient is around 21 C.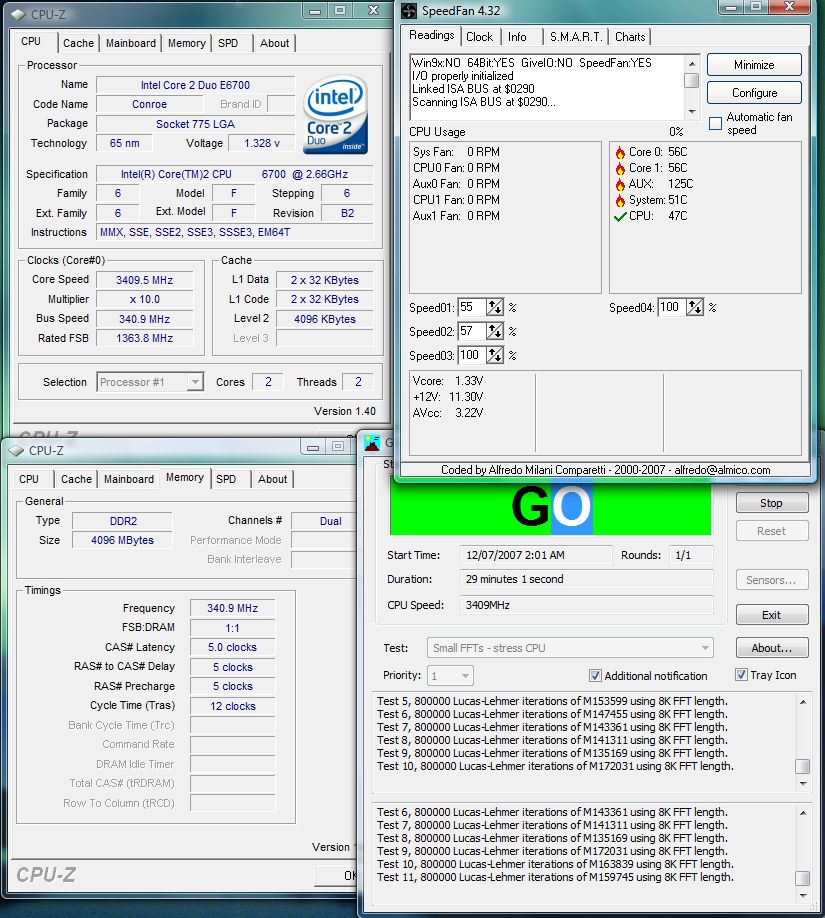 Load temperatures. GPU idles around 38 C, no idea on load temps. I am not certain the effect of GPU load on CPU temperatures. It may seem like a short time for load temperatures from this screenshot, but from my earlier testing I know I have ~20 C delta after hours of stress testing.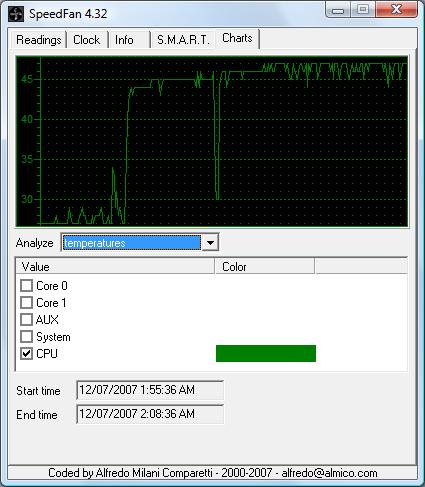 Around a 20 C delta from idle to load. It is mostly due to poor contact between my CPU and its block. It will be replaced with either a DTek FuZion or Swiftech Apogee GTX. There is a 14 C spike as soon as load is placed on the system. I hope the replacement block will lower it.
Pictures: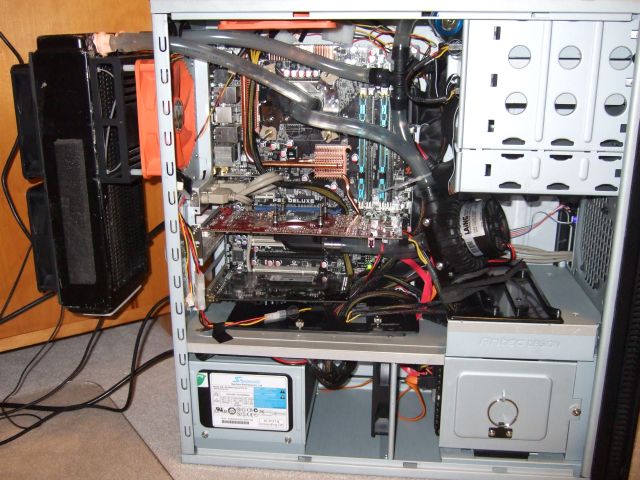 I don't have my dremel tool with me, so cutting holes to make it similar to the P182 will have to done later. All of the clutter here is due to the power and SATA cabling, so my aim during the next rebuild will be this. Too bad when I get my dremel I will lose access to an air compressor to clean the darn thing!
The pump sits on top of a strip of 1/2" neoprene affixed to the stock pad already on its bottom.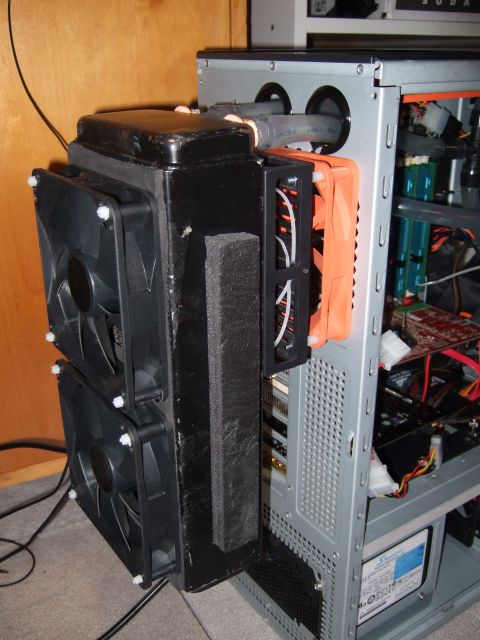 The hole cutter I used for the tubing is obviously too large. At least it gives me the option of using thicker tubing. I route the radiator fan cables through here too.
Notes:
WD 320 JD contributes to much of the white noise coming from the system. I need to replace it as it's much louder than the 500 AAKS and even the Raptor.
The Seasonic S12-600 overpowers the rest of the fans and hard drives when the system is under high load
The Laing D5 has an annoying high pitched whine (apparently the more recent batches fixed it) at setting 3 or higher. Setting it at 1.5 eliminates most of the whoosh and lowers the intensity of the whine. With the case closed, there is no perceived difference compared to setting 1
At 1 m away with the computer next to the desk, it is drowned out by highway white noise from my opened windows. I am in a quiet suburb at the moment.
With the doors and windows closed, it's enough to make me want to (in this order) replace the 320 GB HDD, PSU and set the rad fans to 5 V
No power consumption data since my Kill-A-Watt is in the same place as my dremel