Hello, this is my first post as a silent-pc fan on this forum!
I built this rig over 2 years ago trying to make a watercooled system with a
passive radiator. I got the radiator from an automobile store for $67
The loudest part is the harddrive that is a samsung spinpoint (wery quiet) but anyways the system is wery wery silent.
Specs:
P4 northwood 2,4ghz
ATI Radeon 9800
Samsung SP2514N
Zalman's basic waterblocks for cpu,gpu
Eheim 1048 pump
ElanVital Greenerger SSM 450W
120mm S-Flex SFF21D 800rpm @12V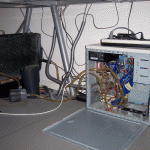 Case stading on the floor with the radiator and pump on foam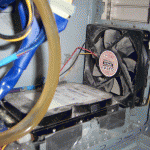 The HDD suspended and close to the fan for optimal cooling, the fan has no grills because they make sound.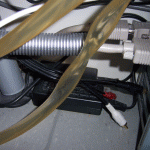 Because I don't have a watertank the system looses water/air and after 2 years this happends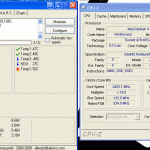 Temps (they were 10C lower at the beginning)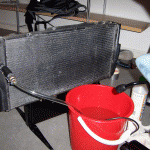 Filling the system up by mounting the pump under the water surface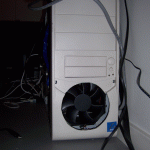 The Schyte 120MM fan from the homemade hole in the front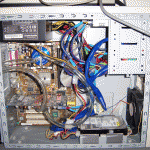 Tubing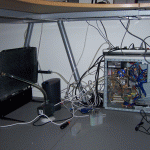 System again but with less cables around
I know this system is oldschool, taking up much space and ugly and I will build a new one soon
[/b]