Over a year ago I built a new Windows Homer Server. I had to do some work on it now so I took some pictures.
The enclosure was an old and heavy Chieftec like this
http://www.chieftec.eu/index.php?option ... view&id=21
The case had a lot of openings on both sides for fans, but none for 120mm.
I wanted to change this and make the air directions front->back. I also wanted to add more drive bays.
First I cut some metal plates to cover the ventilation holes on both side doors.
Then I needed 2 fans in the front of the Hdds. The top fan you can see in the pictures, had to cut some plastic on the door.
The bottom fan is also hidden behind the front mesh in front of the hdds. Had to cut the case metal and some plastic and then a 120mm fan was fitting just perfect.
Normally I use a fan controller for my pc's, see links in signature, but for this server the included three-speed switch on the Antec fans are working great. I have access to the switches behind the front door, see picture.
For HDDs bays I use the same Scythe Hard Disk Stabilizer x4 as in the P182 pc, see signature. The bottom 2 are hanging in the same O-rings as I used in a earlier version of the P182. The Hard Disk Stabilizers are not touching the inside or bottom of the case.
The components:
Chieftec LCX-01B-B-SL
Gigabyte GIGABYTE GA-EP45-UD3R
Intel Pentium Dual-Core E5400. Lapped
Arctic Cooling Freeer 7 Pro
Corsair 4GB DDR2 KIT TWIN2X4096-6400C5
Corsair CX400W
Nvidia 7300 LE
SDM SD-ES3132-2IR PCI-E Serial ATA II Controller Card
4 * Samsung 1.5TB HD154UI
2 * Samsung 2TB HD203WI
1 * Samsung 1TB HD103SJ for OS
1 * Western Digital 1TB
1 * Samsung 400GB HD401LJ
3 * Scythe Hard Disk Stabilizer x4
Dvd
ebmPapst 4412 F/2GLL 120mm Fan
2 * Antec TriCool 120mm fan
With these components and the modification of the case the server is very good and silent.
Edit, 4th jan 2011, added 2 Hdds and a Sata controller, more pics later in the thread.
The enclosure was like this one: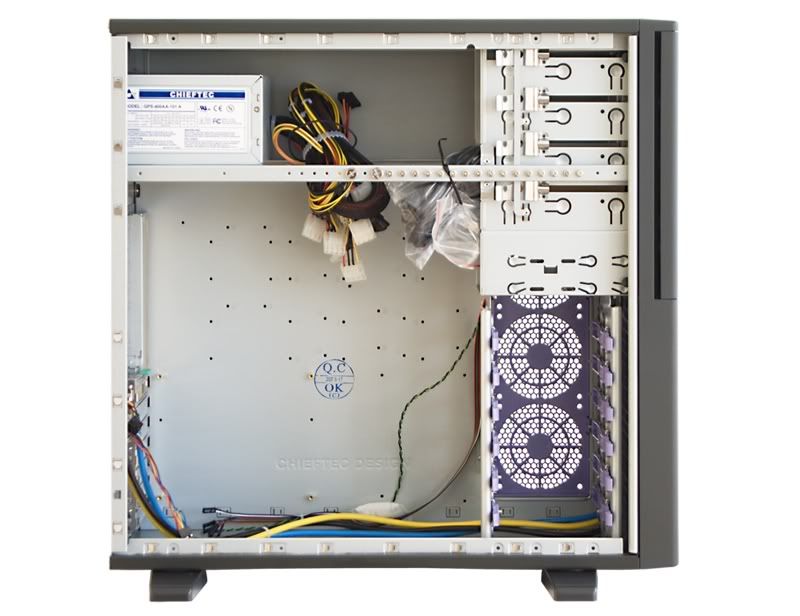 Sides modification: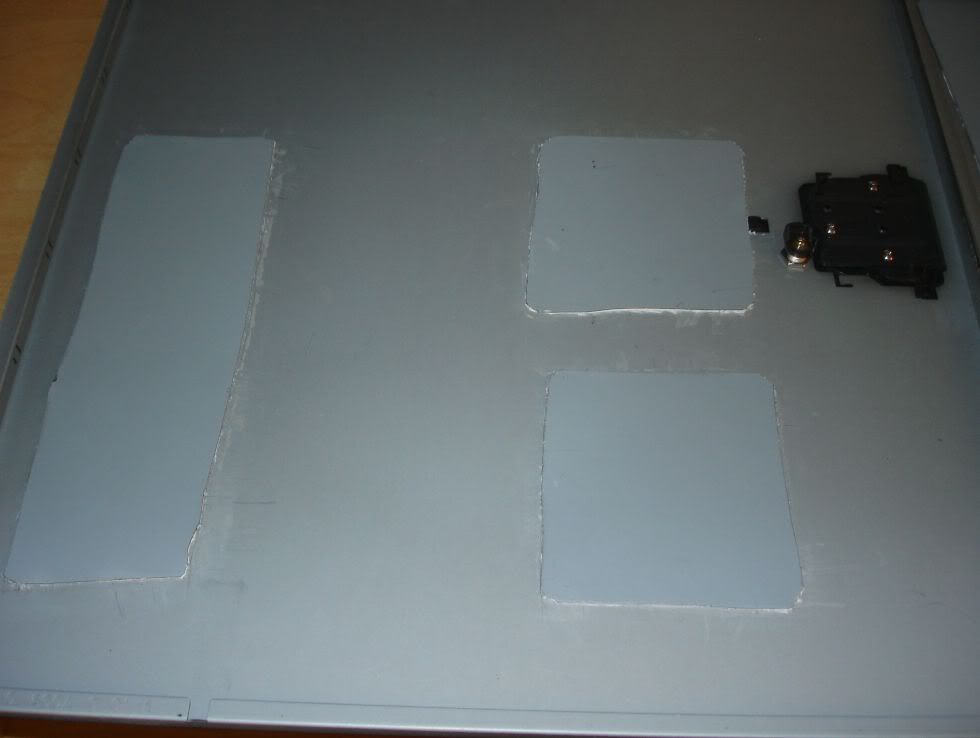 Inside: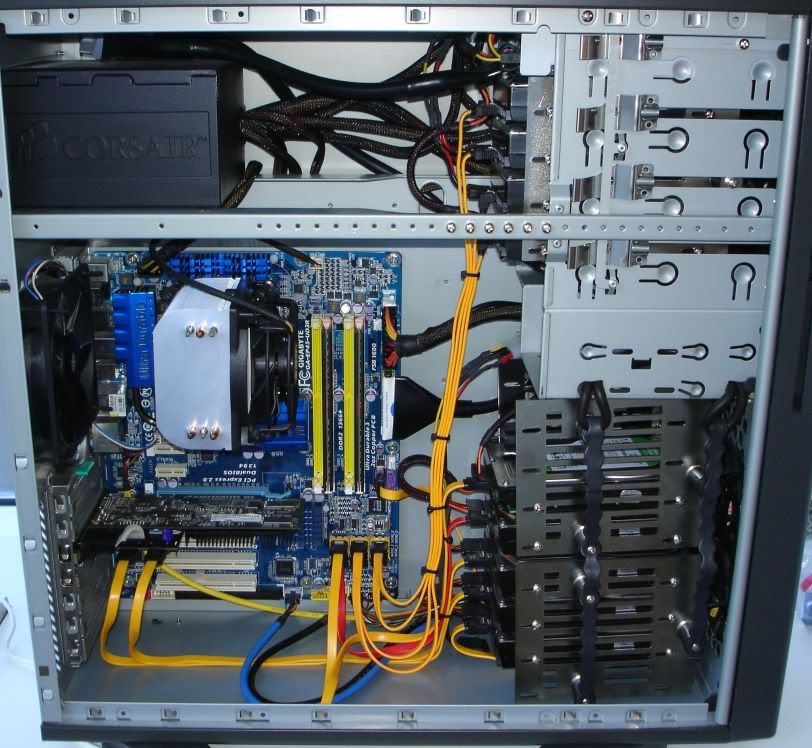 HDDs and bottom front fan
HDDS, front fan and fan switches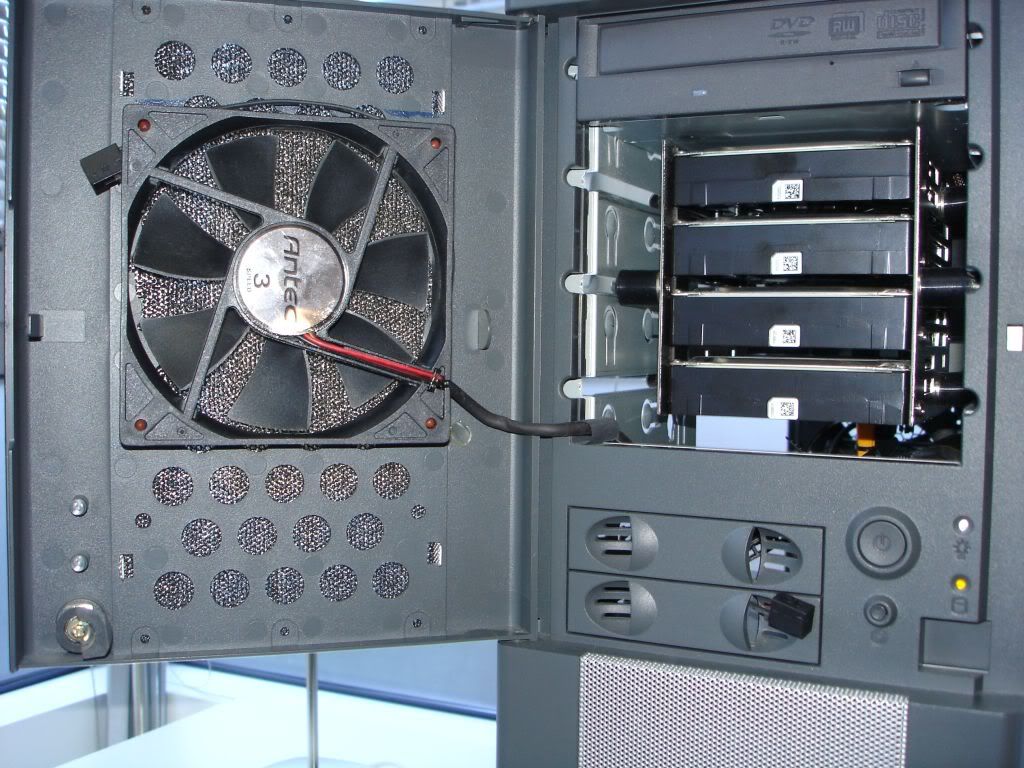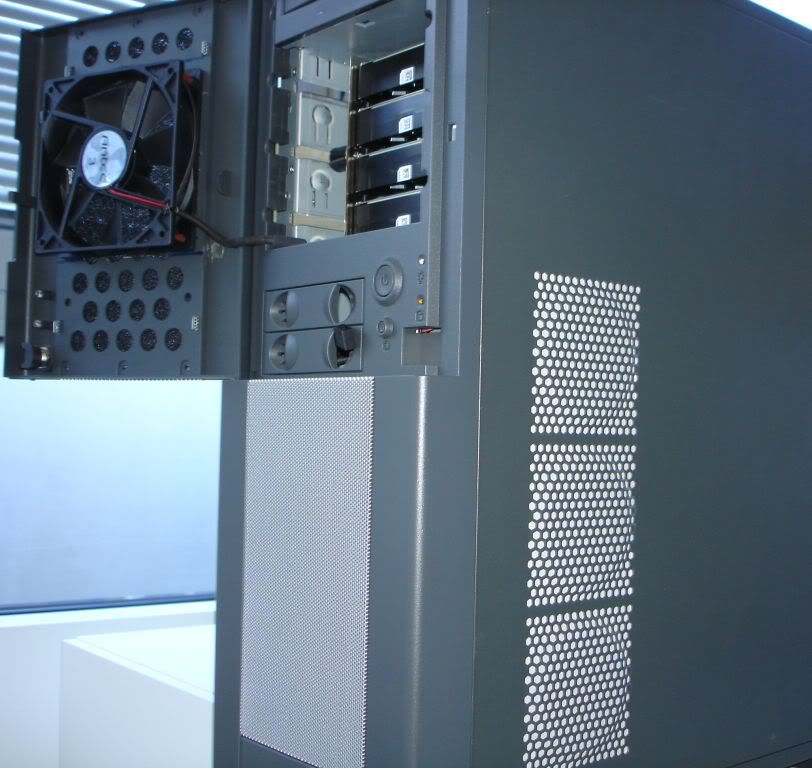 Front: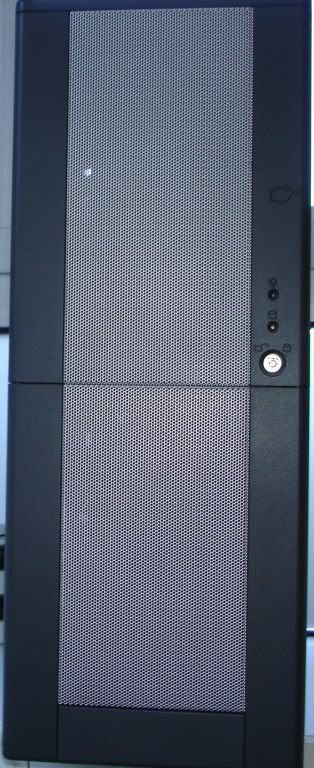 Back: