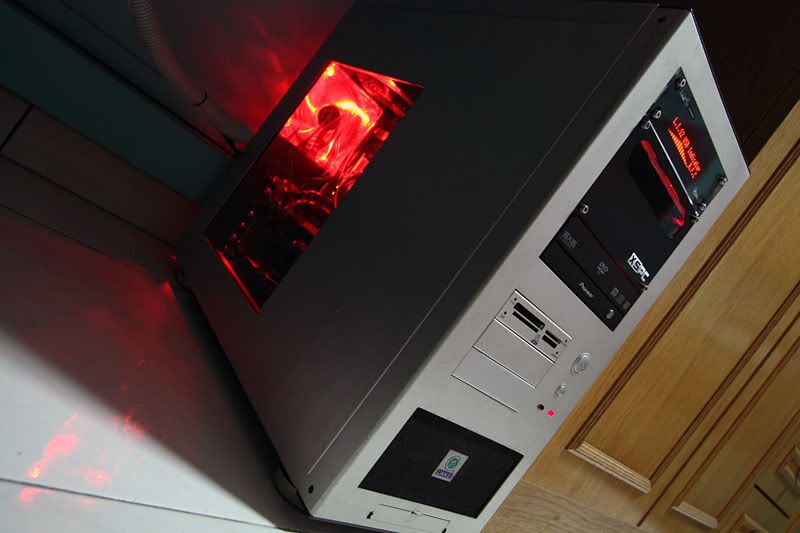 This rig is based on a heavily modded vintage Lian Li PC70USB aluminum casing with the following key hardware;
- AMD Athlon II X3 440
- Biostar TA890GXE v.5.2
- 2 x 2GB OCZ AMD Black Edition DDR1600
- WD Velociraptor 150GB
- Asus 8800GTS 320MB
- Corsair HX620W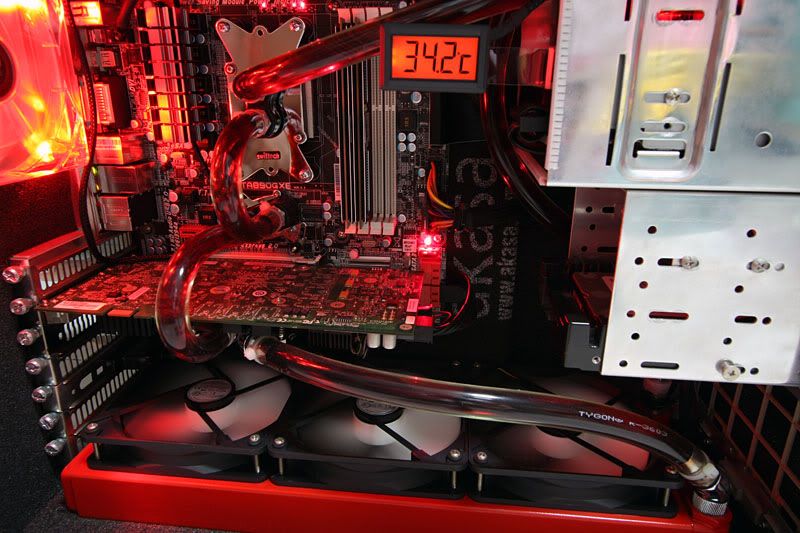 The CPU, GPU and NB are watercooled via the following components;
- Swiftech Apogee
- Swiftech MCW60 v.2
- Swiftech MCW30
- Swiftech MCP350
- Swiftech MCR320
- Swiftech MCR120
- XSPC bay reservoir
- Artic cooling F12 PWM x 4
We managed to unlock the CPU to four cores running at 3.375GHz stock voltage with AMD's Cool & Quiet performing load balancing in the background. GPU performance is also moderated on the fly using MSI Afterburner. CPU load temp barely hit high 30s running Prime95 with an ambient temp of around 30c. GPU is not tested since this is primarily a Web surfing rig.
To further balance noise and cooling performance, all 120mm fans are throttled via CPU load through the motherboard's fan controller and monitored from a front LCD panel . Further noise damping is implemented using Akasa Paxmate, though the foam is used primarily to conceal cables.
Real-time LCD monitoring in action ->
http://www.youtube.com/watch?v=GbjNVtilEwE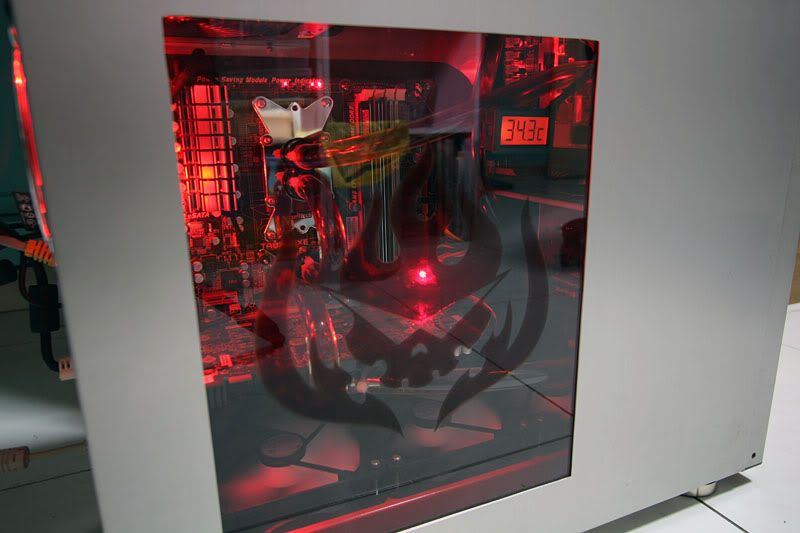 On the whole, the rig is "relatively quiet" with a mild audible low humming noise from the pump within close range. This is usually drowns out by other ambient noise when the casing is positioned under the desk. Custom airbrushed a window and added a LED fan for impromptu leak inspection. The LCD on the top right is displaying coolant temp.