Hello everyone! I am back after small hiatus!
So, I bought Silverstone FT-02 without window whileback based on SPCR review. I was horrid to putout almost 200€'s to a case. Now over a years use, I am here to give a feedback. This is not user review or not to be treated as one, so I will post it here and not the User Reviews. I find it be redudant after SPCR's so tohourgh and good review of this case. But this is feedback after longterm use with some initial impressions.
First thing I noticed when I assembled case that expansion cards when they were placed in motherboard, my samples screw holes did not align perfectly with the cards. Now long time Antec user I did found this rather shocking for 200€ case when 50€ antec never hard that problem. Problem solved: Apply gently pressure slowly the steel structure in expansion card slots.
When machine was up and running and I was using the Silverstones own HDD racks, I did hear the dreadded HDD moan transferinginto superstructure. I have WD Caviar Black 640 GB. Well, I've gotten used so much the HDD suspensioning I got addicated to it, so I probably never will use mechanical HDD without suspending it. So Off I took the silverstones HDD racks and I used Sharkoon Vibe-Fixer to mounty my HDD (used zip tied to attach it on super structure of case) and I got enough space to attach another Vibe Fixer if I need to increased space + plenty space for SSD's.
The HDD mounting. I have space in above for 2nd vibe fixer mounting: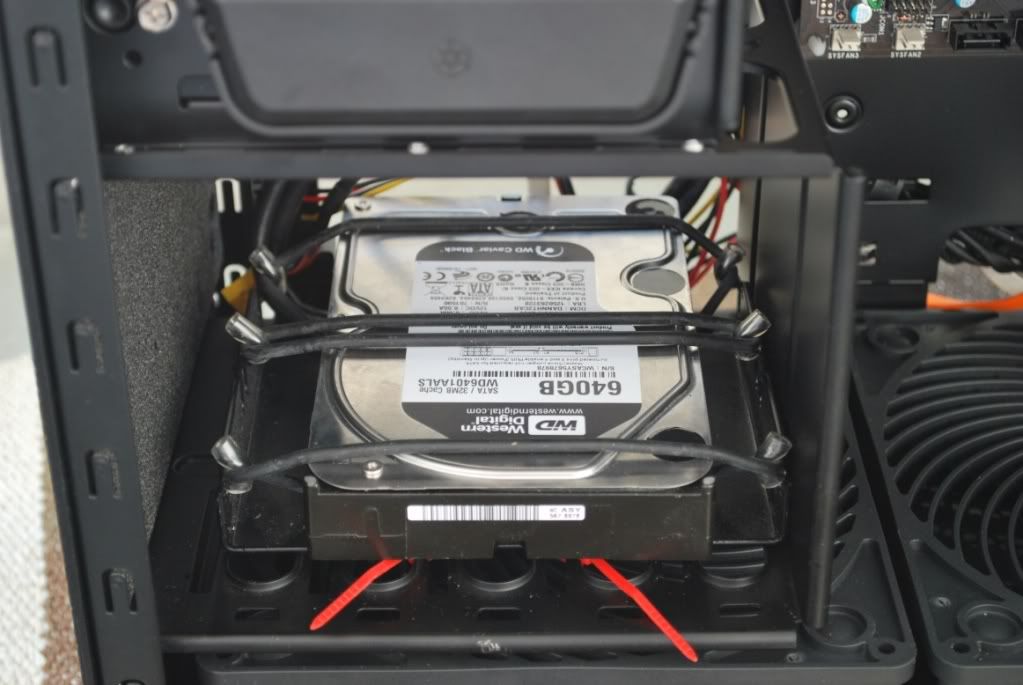 There's not ,much behind motherboard tray for cables. A compromise is needed in order to fit panel without making it bulge heavily. A modular PSU would be really good.
Alrighty. After I got over those and small tweaks:
The cases cooling is nothing I've ever met before. Its not silent but its really quiet. THe only noise I is gentle woosh without tonalities in desktop usage. The sound reminds gentle breeze in pine forrest, I find that very relaxing infact.
Now many say positive pressure case you don't have dust problems. I have to clean all my regular antecs ( Solo and P182) once a month from dust. After opening my SIlverstone fortress after year to change my eVga GTX 460 into eVCga GTX 670 FTW I found really no trace of dust inside the case. GTX 460's cooler was practically dust free and reminded the day I took it out of box over two years ago. I am impressed really. All I had to do is clean the dust filters of those three 180MM fans at bottom.
After over years usage, I really like the Silverstone FT-02 even there was small transition from Antec cases and caused me to work tad overtime for my problem solving capabilties inorder to make it as I wanted it without modfying super expensive case itself. Its money well spent.
My current "coooling overkill" is following:
Case: Silverstone Fortress FT-02 Black, no window.
Motherboard: MSI P67A-C45
Processor: Intel Core i5 2500K Sandy Bridge
Cooler: Thermalright Silver Arrow with 2x Ty-140mm PWM fans
Memory: 2x4 GB G.Skill Rip-Jaw X
Graphics Adapter: eVga GTX 670 FTW 2 GB
HDD: 640GB WD Black (SSD's will be installed eventually)
PSU: Nexus NX-6000 630W R3 Bronze (Hopefully will replaced in Gold cerrtified Corsair or Seasonic before end of the year)
Screen: Acer 23" Full HD screen which exact model escapes me.
Keyboard: Steelseries 7G
Mouse: Razer Death Adder
Mouse pad: Razer Goliathus
I will post later more images, at the point I get new PSU.
Currently: I have powerful computer, with overkill in cooling, which is very, very quiet but not silent. Still very pleasant to listen. I am very happy with my Silverstone FT-02. I would make minor tweaks in future revitions adding 1mm or 2 behindm otherboard tray and making case's fan switches accessable without popping the top off for it. However case keeps my system extermly cool and practically dust free which in this room it is, is practically like walking on water.