Moderators: NeilBlanchard, Ralf Hutter, sthayashi, Lawrence Lee
Every fitting I find is nickle plated which doesn't seem to be ideal. Does anyone know of brass compression fittings?
---
*Lifetime Patron*
Posts: 1288
Joined: Sat Oct 25, 2003 3:21 pm
Location: 15143, USA
Contact:
RIchardF wrote:brass compression fittings?
They're very common in US hardware stores.
---
Eight years since my last posting in this thread. Time flies...

Anyway:
1. There's no longer any article to read in the first post.
What a shame...

2. I'm more and more leaning towards that galvanic corrosion is a non issue in watercooling.
In the last weeks I've been experimenting with galvanic corrosion. Placing a bit of aluminium and a bit of brass in a plastic cup of mineral water, the two metal pieces connected by a cable.
* Without the cable there's an 0.4V galvanic potential between them.
* The resistance in the water is very roughly 1 Mohm.
After two weeks with the galvanic corrosion "running wild" there's still no visible sign of it...

Given that a watercooling installation is supposed to a) be using non-conductive fluid, and b) have the fluid replaced every now and then, I can't see galvanic corrosion being a problem.
---
I searched for that classic alu block all messed up, and found this.
https://www.ekwb.com/blog/aluminium-vs-copper/
I'm a believer. The fluid (usually mainly distilled water) is not 100% non-conductive for very long. I never replaced the fluid in my WC system back in the day very often, never on a regular basis.
---
That's quite a read, and the image below show a perfect example of how what can happen when two different metals are
in direct contact with each other
.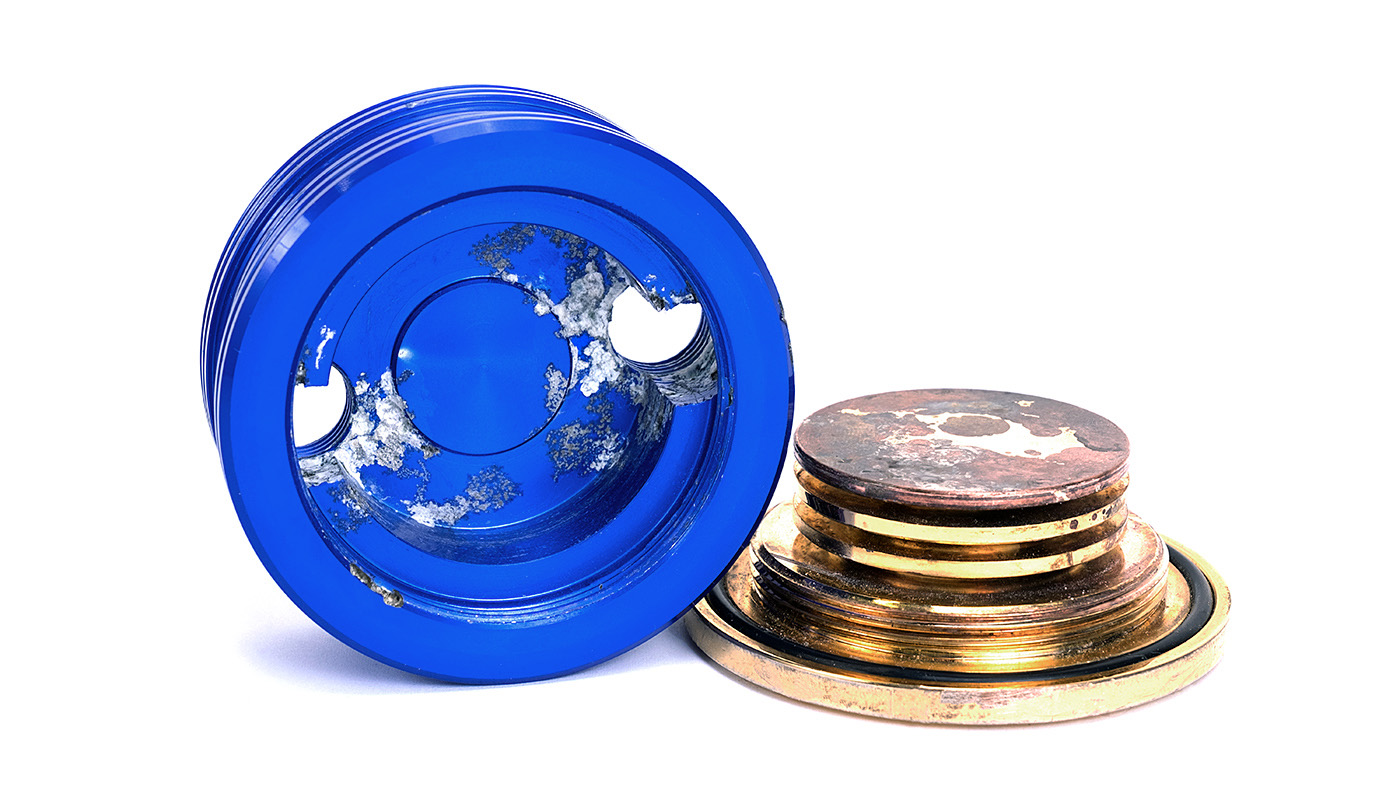 That CPU block came with the Zalman Reserator convector/reservoir, which was also made of aluminium, and I bet that the reservoir used with this block didn't show any sign of corrosion.
---
This is the classic one.
https://web.archive.org/web/20151105012 ... urning.htm
Aluminium CPU block and copper radiator.
"I was wandering past my humming room full of computers the other day, and I smelled that really-hot-circuit-board smell. Phenolic resin, airborne. You may know the smell I'm talking about."
Brings me back.
I always went all copper and never had any problems with this but I had a few leaks (my own fault) with weird results. Conduct it did, a little bit at least.
"The copper corrodes a little, as copper in water or air always will. This is not normally a big deal, because a thin copper oxide layer forms and protects the rest of the metal. But in the process, some copper ions go into solution and make their way around, thanks to the pump, to the aluminium water block. They precipitate onto the water block surface as teeny little metallic copper particles.

And then plain old galvanic corrosion can happen, as the copper and aluminium are in physical, and thus electrical, contact, and both immersed in the electrolyte. The dreck you end up with is mainly aluminium oxide, with its greenish colour donated by a light lacing of copper oxide. Tah-dah."
---