Since my last thread about Bay-trail boards was quite popular, lets do it again. This time it is Braswell and finally the specs looks like 21st century
I guess the only issue will be to find appropriate PSU for the boards if the DC-in is missing, because PicoPSU with adapter is quite expensive and ATX power source will consume itself more energy, than the board in full load
MSI
MSI N3700I ECO
- Intel Pentium Quad-core N3700, 2.40GHz SoC
http://www.msi.com/product/mb/N3700I-EC ... o-overview
2x SATA 6 Gbps, USB 3.0, HDMI (1.4), 24-PIN ATX
MSI N3150I ECO
- Intel Celeron Quad-core N3150, 2.08GHz SoC
http://www.msi.com/product/mb/N3150I-EC ... o-overview
2x SATA 6 Gbps, USB 3.0, HDMI (1.4), 24-PIN ATX
MSI N3050I ECO
- Intel Celeron Dual-core N3050, 2.16GHz SoC
http://www.msi.com/product/mb/N3050I-EC ... o-overview
2x SATA 6 Gbps, USB 3.0, HDMI (1.4), 24-PIN ATX
UPDATE 1: ASRock
Well ASRock will flood the market with Braswell boards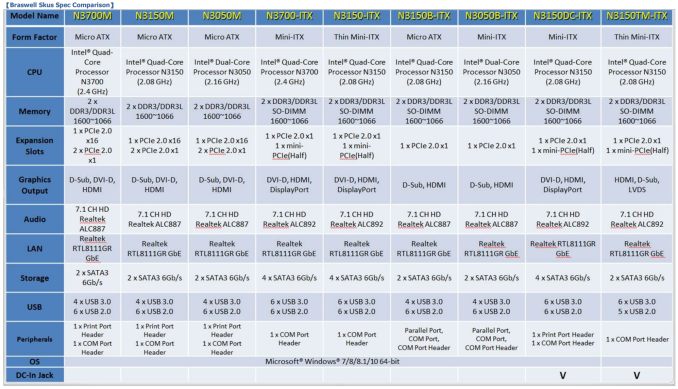 Bigger picture:
http://images.anandtech.com/doci/9271/S ... arison.png
Some boards are already listed on ASRock:
http://www.asrock.com/mb/index.asp?s=Intel%20CPU
For HTPC purposes only: N3150DC-ITX and N3150TM-ITX seems usable, since the others lack DC-in and it is almost impossible to find good and cheap PSU, for such low powered system.
UPDATE 2: ECS
BSWI-D (V1.0A)
Intel Celeron N3050, N3150, Pentium N3700
http://www.ecs.com.tw/ECSWebSite/Produc ... 17&LanID=0
2x SATA 6 Gbps, USB 3.0, HDMI (1.4) -
ONLY 1080p
, DC in (maybe only when N3050 onboard)
UPDATE 3: SuperMicro
X11SBA-LN4F
Intel Pentium N3700
http://www.supermicro.nl/products/mothe ... A-LN4F.cfm
2x SATA 6 Gbps, USB 3.0, 4xLAN, 1x IPMI, HDMI + DisplayPort, 1x PCIe x8, ATX, 12V DC
UPDATE 4: Biostar
N3150NH Ver. 6.x
Celeron N3150
http://www.biostar.com.tw/app/en/mb/int ... p?S_ID=804
2x SATA 6.0 Gbps, USB 3.0, HDMI/VGA, PCIe x1, ATX
UPDATE 5: Asus
Asus pages are total rubbish and Braswell boards are spread everywhere, anyway...
N3050I-C
Celeron N3050
http://www.asus.com/Motherboards/N3050IC/overview/
2x SATA 6 Gbps, USB 3.0, HDMI, 24-PIN ATX
N3050M-E
Celeron N3050
http://www.asus.com/Motherboards/N3050ME/
2x SATA 6 Gbps, USB 3.0, HDMI, 24-PIN ATX
N3150I-C
Celeron N3150
http://www.asus.com/Motherboards/N3150IC/
2x SATA 6 Gbps, USB 3.0, HDMI, 24-PIN ATX
And again
feel free to contribute
, I can't catch everything myself