It's for real. I have never made this claim before for any of my many projects involving low-noise, excellent cooling, moderate cost, mostly DIY. And it's not the case (an Antec Aria), nor is it the fan (a Globe), or the CPU (a moderate heat P4-2.8, not undervolted or under-clocked).
It's simply the ducted positive airflow, combined with an XP-120, and using only the one 120mm Globe fan for the whole case. The std PSU is removed from the case, replaced with a dc/dc converter, and using an external 12V power supply. The one fan blows in from the rear through a wide duct, the ambient temp air hitting the heatsink, the NB, the ram, the DC/DC converter, the Windbond chip, and everything else on the board. The duct is wide enough to overlap the video card (an nvidia 6200, runs about 44C). The top of the duct is made of a copper sheet, running ambient temps. A laptop drive (80gb Samsung SATA) is screwed to this cool-plate, and runs about 30C. After the airflow hits the various MB components, it exits the case through some stock vents, but mostly through a new vent constructed on a custom top.
Here's a side view of the thing as it is running right now (still in the tweeking stage.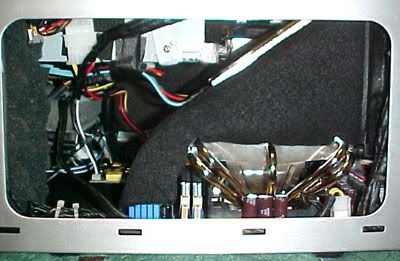 These temp readings were taken at 22.3C ambient, with the one Globe fan at 5V, 760rpms. That's as low as I can go with a Fanmate.....due to be replaced with a better fan control system shortly. It idles about 31C, and after a long run using two instances of CPUBurn, here's the top temps....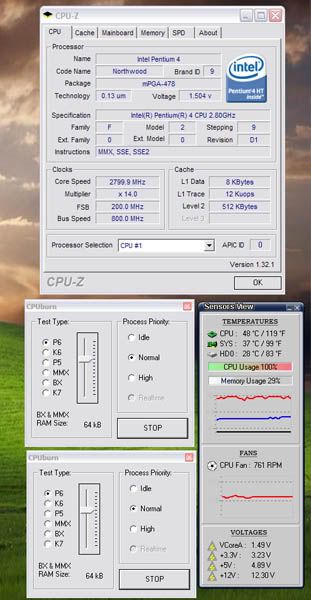 It's the airflow gentleman, a cool flow of air directly hitting all the hot parts, and allowed to passively vent itself out the case. One fan at 5V doing everything. This complete project is posted in the
Gallery
, and my complete photo gallary is in
Yahoo Photos
. Some of the photos show a small fan, not necessary any longer and not used during the latest tests.
This airflow technique could be easily used to cool the hottest CPU, or with a different CPU and MB......could be the quietest setup you'll ever likely see. I'm open for criticism about these claims......but I'm totally convinced this is the way to design your quietest computer. Any number of cases could be modded to use this technique, not just an Aria. But I don't think a tower case would work as well.