I currently tend to not use intake fans for just a single HDD. Just put it right in the opening.
I modded my Antec Solo serving NAS duty to accept two Scythe 100mm fans. If you're handy and really want an intake, you could block off one of the fan areas and mod in a 100mm in the other. You did already snip out the built-in fan guards in the intake and exhause areas, right?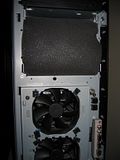 In what way is it running hot? Got some hot GPU action going? Maybe you need a better cpu heatsink instead of intake fans?
Hope this helps,
DrCR