Here is my Quest for a near silent HTPC.
D.Vine 4 Case
Athlon 64 3500+ 90nm 939 Winchester
Thermalright XP-120 with Papst 120mm 4412 FGL
Asus A8V Deluxe
Antec Phantom (on it's way, using el cheapo PSU right now. Scary.)
Samsung PC3200 512MB x2 CL2.5 (was DOA, RMA'd it, waiting for replacements) Right now, one Corsair XMS PC2700 CL2
Powercolor Radeon X800 Pro VIVO (dead, RMA'd it, waiting for replacement) Right now, PNY Geforce 6800GT
Audigy 2
RME digi96/8 PAD
Seagate 7200.7 200GB PATA in a SmartDrive2002
LiteOn 16x DVD-ROM drive
One ducted 120mm Papst 4412 FGL
So basically my plan it to have one 120mm fan ducted to that it sucks the air from the bottom of the case, and directs airflow to the CPU and the video card. Hopefully there will be enough airflow to cool a heatpiped card, with either a Zalman ZM80D-HP or Aerocool VM-101. I have left the back of the case pretty open to allow hot air to be directed out of the case. leaving empty card slot covers off, etc. Not pretty, but best I can do right now.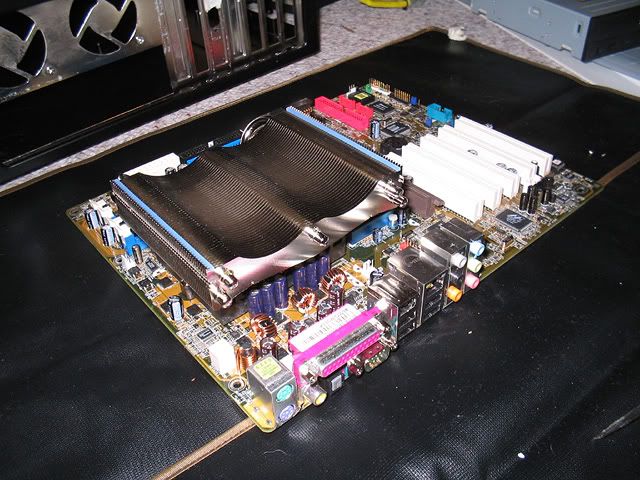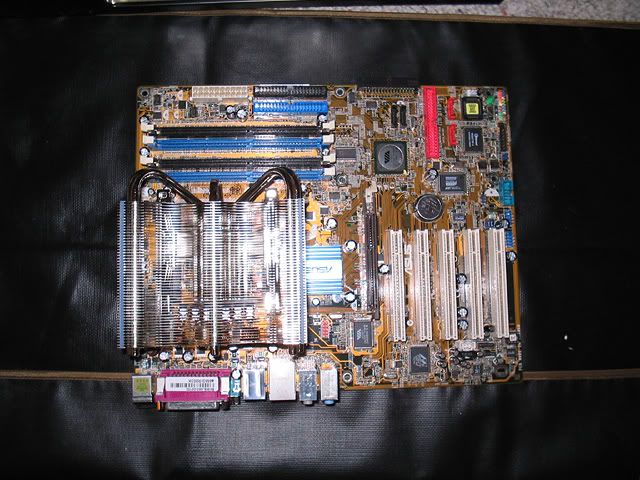 A little tight by the RAM, but the RAM slots are still accessible.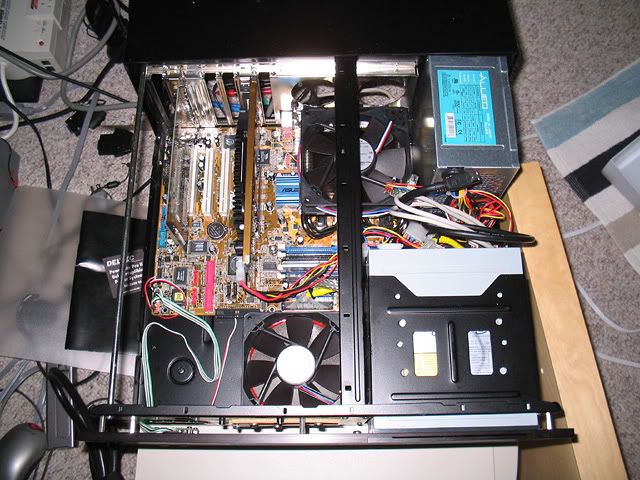 Two 120mm Papst 4412 FGL's. One on the XP-120 @7V, and the other on the bottom of the case for sucking. CUrrently running at 12V, but will soon have Noise Control NMT2 and NMT3 fan controllers on each fan.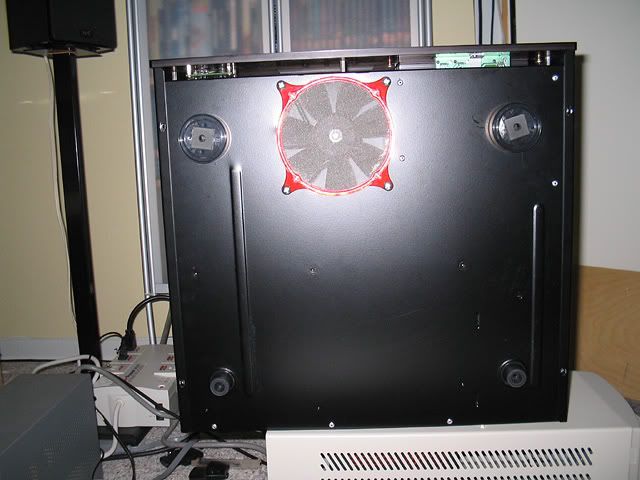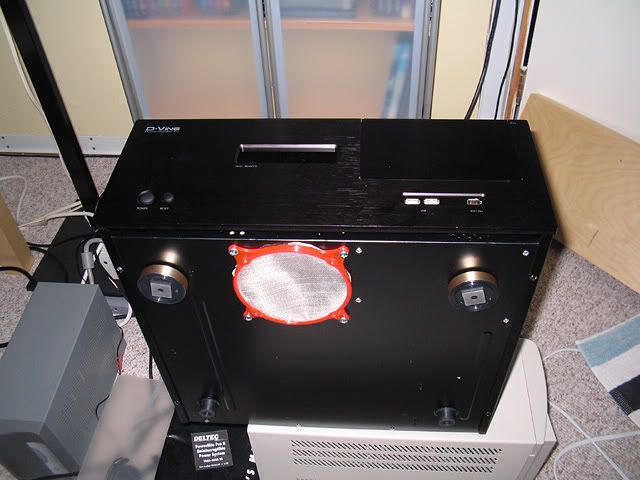 Darn paint chipped off abit when I was cutting the suck hole out. My 4.5" hole saw would not cut through this steel. Yikes, my drill was smoking, so I gave up, and used my trusty nibbler. Very tedious. Ugh. I'm buying a powered nibbler next time.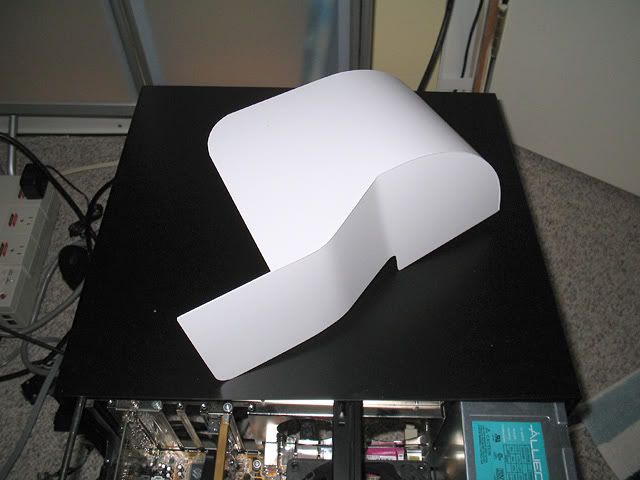 This is my prototype duct. I made it out of styrene plastic. Since it's temporary and I will make a sturdier and prettier one later, it's made from pretty flimsy and thin styrene, but it does the job.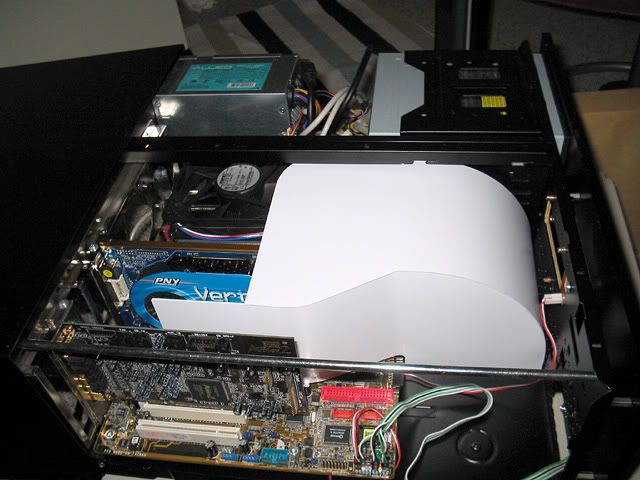 My "temporary" Geforce 6800GT. My Radeon X800 Pro is dead, and I'm waiting for it's RMA'd replacement to arrive. Ugh, that 6800GT is a screamer!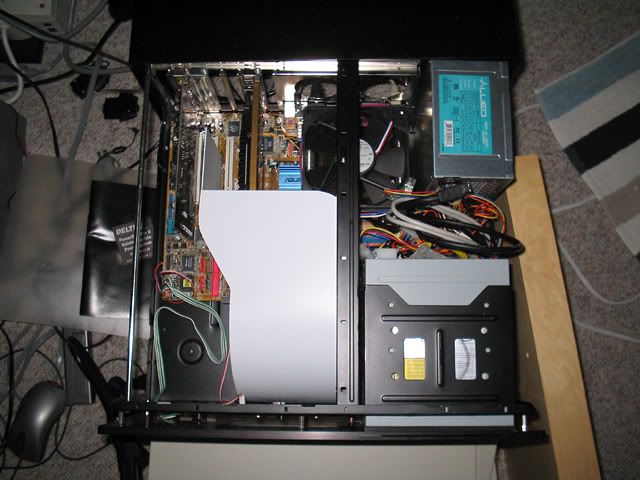 Well, whaddya know? There's enough room for either a Zalman ZM80D-HP or Aerocool VM-101. I'll have to compare the two when I get my X800 Pro back.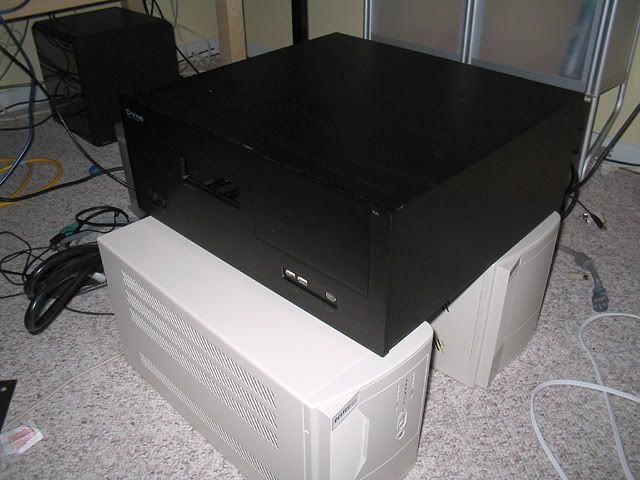 It was suffocating on the floor, as the fan filter I put on the bottom (ugh, yes it's ugly, but it works) does not give enough clearance. So I will have to give this case bigger feet. For now, my old UPS will have to do for now. :p
Well so far so good. I'll have to double check the MBM5 readings, seems to be to good to be true. 26 C FOlding?
I'll check the BIOS readings later.
I just ordered an Antec Phantom, so we'll see if it works well in this setup.
-Ed