I picked this case for a home server, in no small part because it was the smallest cabinet I could find that would fit ten hard drives.
I think the case is great - solid, practical, decent looking and a nice price. And did I mention that there's room for ten HDDs?
The only things I could wish differently are:
* You need a screwdriver to take off the front dust filters. Cleaning dust filters is something I do frequently enough to prefer it toolless.
* More space behind the motherboard tray for cables - it will be sufficient when there is room enough to stand a Molex connector on its side. (There's no more room in the 3-4 other cases I've used, so this wish applies to cases in general.)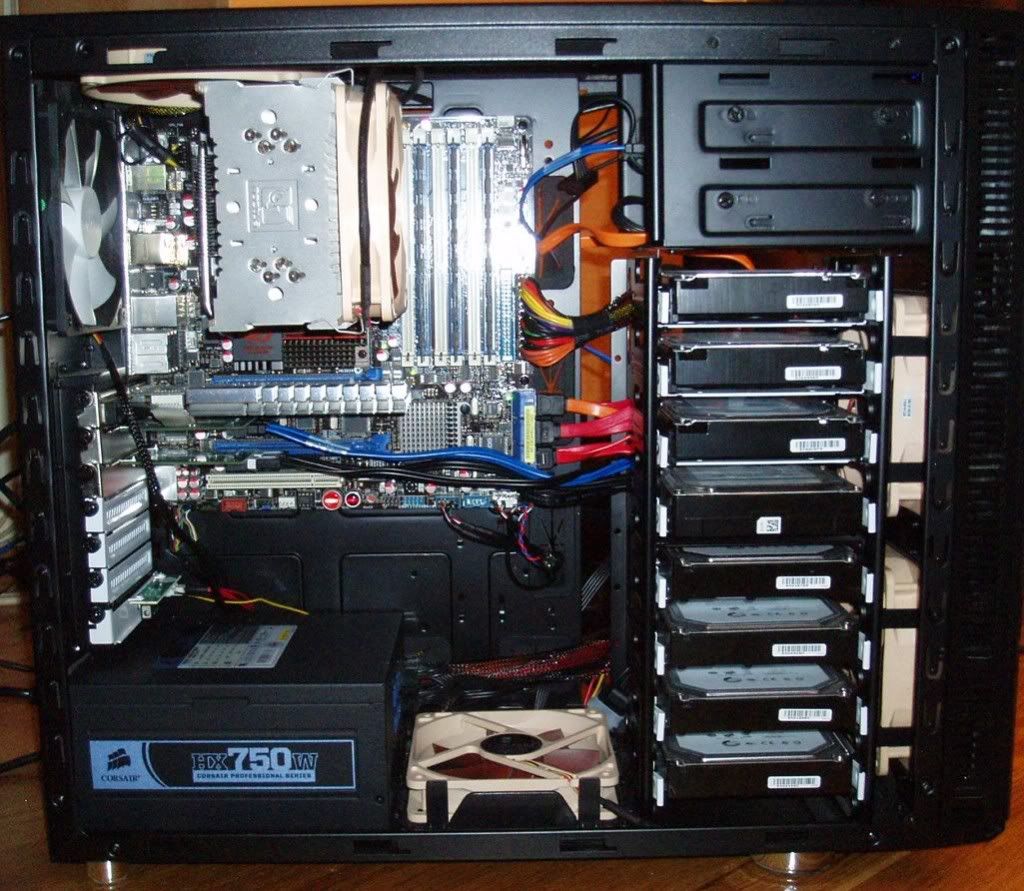 Initially I used the stock fans plus a Noctua 120mm as a second front intake fan. This would cool well enough with the fans at full speed, but was too noisy for my taste.
Using the minimum setting of the Fractal fan controller made the noise acceptable, but the CPU and HDD temps became a bit too high.
(CPU 68-70 C at full load with Folding@home; HDDs 45-47 C. My target temps are CPU below 67 and HDDs below 42.)
After some experimentation I ended up adding a Noctua 140mm w/ULNA to the rear roof slot, running the remaining fans on minimum. This dropped the temps to 60 C (CPU) and 37-39 C (HDDs) with no perceptible change in noise.
Adding the bottom intake fan had no effect on temperatures, but it's not audible either. I added it in the hope of getting positive case pressure, primarily to keep the dust out.
The system is reasonably quiet, less noisy than a Playstation 3 at idle (which I used to consider fairly quiet before I grew a fancy for quiet computing
), but not inaudible. There's a white noise hiss - air turbulence, I suppose - that you can hear from across the room.
The noise is about the same level and character as the air intakes for the ventilation ducts in the building where I live - the ventilation fans are on the roof, so you can't hear the fans as such, but you can hear the air being sucked into the ducts.
It's not an unpleasant noise and I rarely notice during daytime hours, but it is still a bit louder than ideal. (The ideal is of course bedroom-at-night quiet. My desktop is close to that ideal, but this system isn't. I suppose I'll call it living-room-at-day quiet.)
At the speeds I run them none of the fans are audible - disabling every case+CPU fan doesn't change the overall noise level.
It turns out that the noisiest part is actually the PSU, a Corsair HX 750. I was surprised by that; a 200 W load should hardly make a 750 W PSU break a sweat, and the Corsair VX 450 I use in a desktop is well-nigh inaudible at the same load.
But sure enough, Corsair's noise-to-load diagrams actually say that that the
HX 750 (~25 dBA)
is more noisy than the
VX 450 (~21 dBA)
even at low loads.
The PSU is too new and too expensive to change anytime soon, and it's still reasonably quiet. But the next time I'll probably go for a Seasonic X or Corsair AX series, they seem to be the quietest PSUs around at the moment.
At close range there's a pink noise rumble from the hard disks as well, but this is inaudible from one meter distance - I can't hear it when standing over the computer, only when I sit down on the floor next to it.
The hard drives don't make much noise otherwise, except for a fairly loud clicking when parking or unparking the drive heads. I fixed that by disabling automatic disk sleep so head parks are rare.
Components:
* Fractal Design Define R3
* Intel i7 920 @ stock
* Asus Rampage II Gene
* RAM: 6GB (3x2GB)
* Graphics: Asus EN8400GS Silent
* SATA controllers: 2x HighPoint Rocket 620 (for 4 additional SATA ports)
* OS disk: WD Scorpio Blue 2.5" 160GB
* storage disks: 4x Seagate Barracuda LP 2TB, 3x Seagate Barracuda Green 2TB, 2x Samsung 1TB
* RAID: 2x Linux software RAID. The 6 Barracudas in RAID 10, the two Samsungs in RAID 1 and a shared hot spare.
* OS: Ubuntu 10.10
Cooling:
* CPU: Noctua NH-U12P and 1x Noctua 120mm w/LNA
* front intake: 2x Noctua 120mm, min. speed through Fractal fan controller
* rear exhaust: 1x Fractal Design 120mm stock fan, min. speed through Fractal fan controller.
* top exhaust: 1x Noctua 140mm w/ULNA
* bottom intake: 1x Noctua 120mm 800RPM