Per Hansson, over at
www.badcaps.net
, has uncovered that his Seasonic 430W PSU contains OST capacitors from the Taiwanese manufacturer Ostor Corporation, which is known for its poor quality.
For a long time Seasonic has been claiming, and known for, to only be using high quality capacitors.
This is the reason I bought myself a Seasonic S12 430W this summer and as I now find the very same OST's inside my unit, I feel quite mislead. I had expected that Seasonic would be sourcing their components from more reputable manufacturers and I was prepared to pay the premium for that.
So please check out yours and post your findings here along with Wattage and Revision No (written on the side label). You should be able do determine the name of the capacitors by simply lighting with a torch through the rear grille (that's what I did).
The story in brief:
In all fairness, nothing indicates at the moment that the capacitors currently used are bad (we'll only find out when it's too late), but this is what SPCR wrote in the Seasonic S12 review:
http://www.silentpcreview.com/article226-page4.html
Long-lived Aluminum Electrolytic Capacitor - Apparently, higher quality Japanese aluminum electrolytic capacitors are now used for greater reliability and stable performance. More common China-made capacitors must have been used before, as is typical of most PSUs. There have been major incidents of electronics, including motherboards, affected by leaking capacitors sourced from China starting from ~2 years ago.
I did see a couple of Japanese capacitors but no photo was taken.
Here are the OST capacitors Per found in his S12 430W rev. A1(?) unit:
In this review at
Virtual Hideout
, also an S12 430W Rev.A1 unit, Chemicon capacitors are used (AKA Nippon Chemi-con, Europe Chemi-con or United Chemi-con) which have a better reputation. You can visit the site for a bigger picture: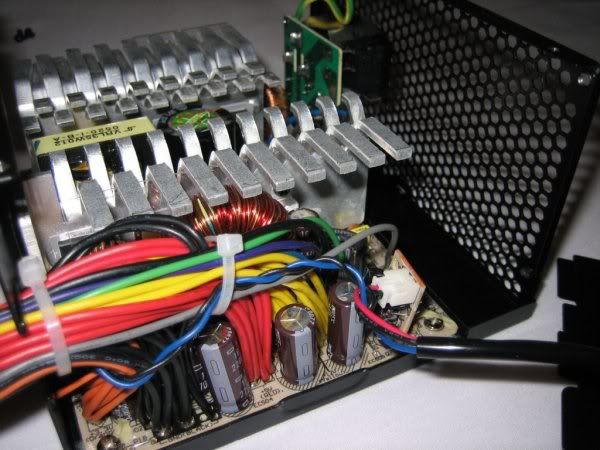 MikeC, do you still have that SPCR reviewed unit? What Japanese capacitors did you find in there?
edit: smaller photo for modem looser users like myself