At the end of last year I decided it was time for a new computer. The one I was using had the honor of serving me for almost 5 years without a single upgrade - impressive! But it became slow, and most of all extremely noisy. Ever since I discovered SPCR I've been dreaming of a new PC, some weeks later it stands right here, next to me. I would like to show you what I made with some remarks and experiences. By doing so I hope to be of use to some visitors who consider buying some of the components I chose. Please keep in mind that so far I assembled the PC, installed Windows 7 and did no more than some general stuff with it. Really using the computer won't happen until I transfer all my data from my old PC. I hope to add some real test results soon, but for now most of my experiences are rather first impressions and a slightly superficial.
Before I start twaddling about each part I think me be useful to give some general information. Whenever I buy something, I need to inform myself as much as possible. I'm a consumer that is always on the look for what people often call 'Best bang for the buck'. Since I'm far from rich, I set myself a budget between 500 and 700 euros to find myself an excellent all rounder that could be my next workhorse for the next 3 to 5 years without upgrading. I'm not a real gamer, although I do fancy a game now and then. Main focus was medium-heavy multimedia work (Office, Photoshop, Premiere). To sum things up: I spent a whole month finding components that combine three things: budget, performance & silence.
This is what I came up with for +/- €675 (Windows 7 Pro included).
Warning, crappy pictures!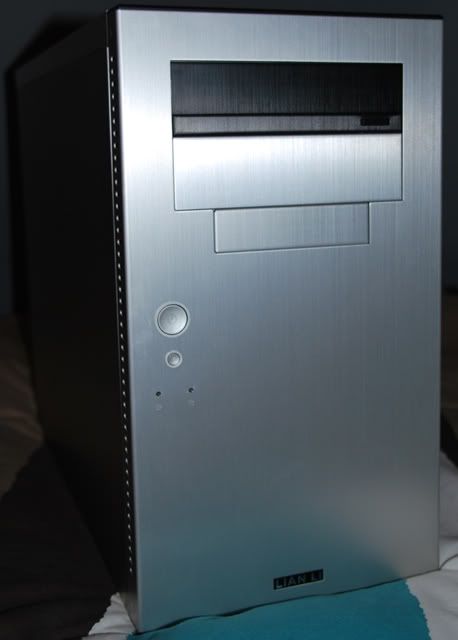 1. CASE - Lian Li PCA05N
I was actually looking for the older version (without the 'N') because it had I/O Firewire, but unfortunately couldn't order it anymore. I chose this case because it combined everything I was looking for. Not big, yet plenty of space to put decent things in and a great design (slightly modified by opting for a black Lian Li bezel). It's one of the sturdiest cases I ever worked with. Easy in use and most of all pure quality, highly recommended.
2. CASEFANS - 2X Nexus 120mm D12-SL-1
Although I never tested the Lian Li casefans I played safe and went for what probably is the best fan on this planet. Added an authentic Nexus 3-Speed Fan cable, fans are now spinning at 7V. I never used casefans before so I was a bit concerned about extra noise, but (joy!) I can't hear them at all. Extremely recommended, especially considering the airflow they're still generating!
3. MOTHERBOARD - Asus M4A758TD-V EVO (ATX)
I opted for Asus because it's a brand I feel I can trust. They've never disappointed me in the past and it doesn't seems like they will this time. Installation went smooth and the overal design of the motherboard was very decent. Excellent manual, well packed and so far no complaints.
4. CPU - AMD Athlon II X4 620
At first I was rather sure of a Phenom, but that was too close to a Core i5 in price (and not performance). I still feel the Athlon X4 is one of the best buys you can have nowadays, a true budget king. Haven't been able to test my CPU fiercely but so far it seems great stuff. Might try to overclock it some day as some people argue you can overclock this to a true Phenom. But that's nothing for the near future anyway. I'm not that hardcore actually.
5. CPU COOLER - Nexus XiR-2300
Because I feared a noisy stock cooler I picked this Nexus. Most reviews I found were positive, but not impassioned. Main problem seemed to be the cooling capabilities compared to it's price. I could have it for a tad more than €20 - which was by far the cheapest option I had. I wasn't sure it was going to be as silent as I was hoping (no 120mm fan) bit at least it wasn't a big thing like a Scythe Mugen and was cheap as hell. Installation was not easy (Northbridge cooler made things difficult) but not hard either. I haven't been able to test temperatures, but I'm happy to report that the noise is no problem at all - so far. It's not dead-silent, but as good as unnoticeable. Hopefully that will stay when the CPU get's to see some action. But as I said before: decent testing is required before I really make up my opinion.
6. PSU - Seasonic M12II 430W
My first intention was a to buy a Corsair HX420W but it was not available anymore. The HX520W seemed a good replacement (although overkill) but that one was out of stock as well. I doubted a long time between Seasonic, Enermax and Nexus but went for Seasonic after all. The complaints about Enermax scared me off and Nexus was not reviewed at SPCR yet. The Seasonic seemed to be the best 400 to 500W modular option - and for now I'm very happy with this PSU. I can't hear it and no power issues so far. Cables and modularity was excellent as well, although I would have loved the 4-pin AUX12V connector and 8-pin AUX12V connector to be modular as well. Furthermore no complaints so far, recommended.
7. GPU - Sapphire HD5750 1GB Vapor-X
One of the first components I was rather sure of was the GPU; a Sapphire HD4850 512mb Vapor-X. Sadly enough I could not get it anymore and after some thinking I went for the HD5750 Vapor-X. It costs more compared to a HD4850, but it's more future proof and has some interesting upgrades. But Vapor-X it had to be because I find a passive cooled GPU almost always too hot and consider the GPU as a noisy part. Once again no proper testing has been done, but so far I'm pleased with it. The fan was a bit noisy at first (50% at idle) so I manually slowed it down via CCC to 25%. Almost inaudible now, and almost no temperature raise. It went from 34° tot 36° in idle - excellent result. Only problem I encountered so far were some vibrations the card caused now and then. I tightened the screws of the motherboard and the GPU istelf, hopefully It's solved now. So far: recommended.
8. MEMORY - Team Elite 2 X 2GB DDR3 1333mhz
Nothing special to mention. One was defective but I received a replacement in no time. It was cheap memory (€82) from a decent brand and so far I have no complaints about it.
9. HARD DRIVE - Western Digital Caviar black 500G
Although a SSD would have been awesome, I find them too expensive. Especially because I don't want multiple drives (more noise!). 500G will be plenty since my old 80G could serve me without problems for 5 years. Should add that my old drive is as good as completely full at the moment, time to transfer everything as soon as possible and start using this shiny new machine! Anyay, I opted for Western Digital because I like their quality. I was thinking about a Caviar Green (less noise and power consumption), but in the end I went for performance. Right now it is definitely the noisiest part of my system. I haven't suspended it because the Lian Li solution in my case seemed fine. The drive makes my system not silent, and perhaps I will try to solve it sooner or later (Scythe Quiet drive?), but for now I'm satisfied. Mostly because it makes noise, but it's only hearable because all the other parts are as good as silent. The performance of it is awesome as well: therefore highly recommended.
10. OPTICAL DRIVE - Samsung SH223C
Nothing special to mention here, it does what it has to do: work without problems and without making an aweful lot of noise.
A massive post, but I really hope this was of use to some people. I will try to add further experiences, but for now thanks for your interest!